Abstract: PS1032
Type: Poster Presentation
Presentation during EHA24: On Saturday, June 15, 2019 from 17:30 - 19:00
Location: Poster area
Background
For AML (excluding APL), there has until recently been no major changes in AML-specific drug therapy, but improvements of supportive care and access to allogeneic transplantation (SCT).
Aims
We aimed to analyze changes in survival from AML (non-APL) over the period 1997-2016, and to identify and characterize patient subsets with greater improvement.
Methods
Data from all Swedish AML-patients, diagnosed from 1997 and reported in the Swedish AML Registry (n=7708), including type of AML, diagnostic findings, therapy including allogeneic stem cell transplantation, and outcome, was analyzed. Survival up to September 2018, early death rate and CR rate by year of diagnosis, age, sex, performance status, type of AML, genetic risk, and therapy was calculated using Cox regression and Log rank analyses where date of diagnosis was grouped into four five-year periods 1997-2016.
Results
Due to the early and large mortality amongst older patients the relative or cause-specific survival were of no use, as confirmed by parallel relative survival analyses (data not shown). Cox regression (univariate and multivariate) identified strong correlation to survival with age, type of AML (de novo vs secAML), ECOG performance status, and year of diagnosis (all p<0.001), and also sex in multivariate analysis (p=0.015). Thus, survival improved by time (log rank, p<0.00001). However, when different age cohorts were independently analysed (Figure), we found that the improved survival was restricted to ages 50-75 years (n=3513, log rank, p<0.00001), with no improvement in younger (<50 years, n=825, p=0.67) or older patients (>75 years, n=2657, p=0.50). Furthermore, males 50-75 years had improved survival over time (n=1949, p<0.00001), but not females (n=1564, p=0.69). Thus, in the first half of the study period males had poorer survival than females, but male survival improved to equal survival by sex in the latter part. Changes over time were seen for performance status, early death rate, complete remission rate, and transplantation rate, but with only minor differences between the sexes.
Figure: Multivariate Cox regression with ECOG PS and AML type (de novo vs sec) as covariates. For each sex-age group combination, the hazard was determined by a separate period dependent categorical variable with 1997-2001 as baseline.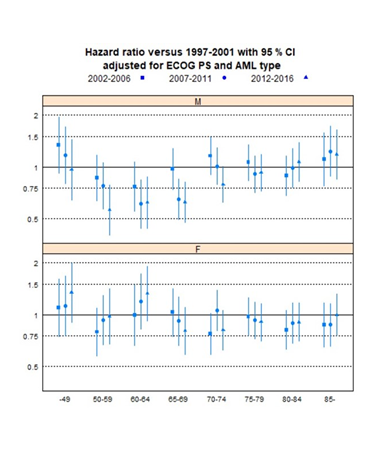 Conclusion
Despite no new chemotherapeutic drugs, survival has improved over the past twenty years, mainly in middle-aged male patients. Females have since long time had a better survival than males in the overall population and among patients with other cancers, also including AML in past times. However, in the most recent decade, males 50-75-year old with AML now survive as long as female same-aged patients. The results were similar across risk groups, but most clear in patients with de novo AML, non-high-risk genetics and good performance status. Many factors may contribute to changes in outcome over time, such as transplant rates and general health. However, the sex difference remains unexplained. No improvement in survival was seen in younger and older patients.
Session topic: 4. Acute myeloid leukemia - Clinical
Keyword(s): Age, AML, Prognosis, Survival