Abstract: PS1031
Type: Poster Presentation
Presentation during EHA24: On Saturday, June 15, 2019 from 17:30 - 19:00
Location: Poster area
Background

The combination cytarabine + anthracycline (IC) remains the standard of care for 60 year and above AML patients (Lowenberg et al. N Engl J Med 2009). Decitabine (Dec) has been EMA approved for first line AML patients not fit for intensive chemotherapy (Kantarjian et al JCO 2012). IC vs Dec have been not previously compared. 
Aims
The aim of this study is to analyze effectiveness and tolerability of IC vs Dec as first lines in 60 and above AML patients and to identify risk factors.
Methods
We carried out the analysis on previously untreated AML ≥60yrs old patients included in PETHEMA AML epidemiological registry (NCT02607059) and in the MDA-AML-2017-05 (AEMPS code). Selection criteria for the study were as follows: Age >60, diagnosis of AML under WHO criteria, treated with IC or Dec during the period 01/01/2012 to 31/12/2016. Response was assessed using the ELN-2010 criteria, toxicity by the CTCAE v4.0 scale, OS by Kaplan-Meier, as well as mortality within the first 8 weeks (M8wks). 
Results
A total of 756 of previously untreated AML patients were analyzed (625 treated with IC and 131 with Dec), baseline characteristics are summarized in table 1. A higher incidence of risk factors was observed in the Dec cohort. Safety: A total of 1051 IC and 716 Dec cycles were analyzed, mean 2.4 and 6.1, febrile neutropenia 74% and 47%, M8wks was 22.5% and 25.5% (p=0.15) and composite complete response (CCR) 64% and 18% (p<.001). for IC and Dec respectively. In this study serum creatinine>1.3 mg/dL (p=0.02, p<0.01), ECOG≥2 (p<0.01) and adverse cytogenetic (p<0.01) were adverse prognostic factors for OS in both cohorts, and WBC pre-Dec >10.000/µL (p<0.01) in Dec and Secondary AML (p=0.02) in IC cohort. IC resulted superior for OS (11 vs 8 months p=0.04) but this was not significant in 70 and above (7 vs 8 months p=0.94) or after matching by mentioned risk factors.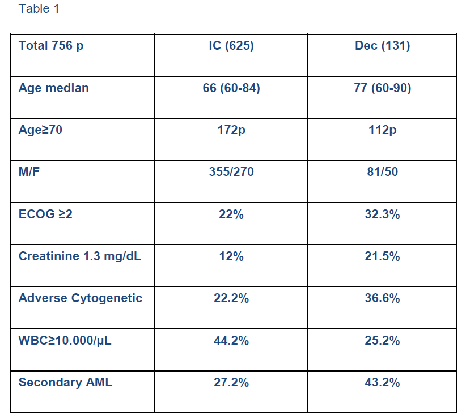 Conclusion
IC and Dec are not used for the same patients due to physicians judgement. Even the outcome seams superior with IC we observe similar OS after matching by risk factors age, creatinine, ECOG, or cytogenetic. The ongoing EORTC phase III randomized trial (INDACTION) will compare a Dec-based vs IC front-line approach for older patients with AML.
Session topic: 4. Acute myeloid leukemia - Clinical
Keyword(s): Acute myeloid leukemia, Decitabine, Elderly