Abstract: PS1030
Type: Poster Presentation
Presentation during EHA24: On Saturday, June 15, 2019 from 17:30 - 19:00
Location: Poster area
Background
Complete remission (CR) with incomplete hematologic recovery (CRi) is an established risk factor for poor outcomes following induction therapy in Acute Myeloid Leukemia patients. However, the prognostic role of CRi before allogeneic hematopoietic stem cell transplantation (HSCT) is unclear.
Aims
Study the impact of CRi vs. CR at time of HSCT in de novo AML patients.
Methods
This was a retrospective single-center study which included de-novo non-M3 AML patients that underwent allogeneic-HSCT between 2001 until 2015; patients were in first or second CR or CRi at time of the transplantation. CRi was defined as meeting all CR criteria except for a neutrophil count <1000/μL or platelet count <100,000/μL. We also considered an additional definition of CRi with anemia, defined as a hemoglobin <10 g/dl. The impact of CR vs. CRi was studies in a univariate analysis and as part of multivariable Cox regression model adjusted for age, disease status (first/second remission), cytogenetic risk, conditioning intensity, donor type, and transplantation year. Outcomes considered were overall survival, non-relapse mortality (NRM), and relapse. Survival probability was calculated using the Kaplan Meir estimator and comparison between groups were with the log-rank test. The cumulative incidence was calculation for NRM and relapse, which were considered as competing events; comparisons were made with the Grey test.
Results
The study cohort included 230 patients (186 CR vs. 44 CRi). Patients in the CR and CRi groups were similar in term of age, comorbidity index, year of transplantation, disease status at transplantation, cytogenetic risk, time from diagnosis to transplantation, and donor type. As expected, the median platelet count and neutrophil counts were lower in the CRi group (78,000/μL vs. 173,000/μ; p<0.001) and 2.630/μL vs. 3.720/ μL; p=0.008, respectively). In univariate analysis (Figure), CRi was associated with a higher probability for 3-years mortality and NRM compared to CR (41% vs. 62%; p=0.022 and 10.2% vs. 27%; p=0.007, respectively). Relapse was similar across groups. Thrombocytopenia rather than neutropenia attributed to the prognostic significance of CRi. CRi with anemia was associated with higher rates of mortality, secondary to NRM (3-years NRM: 10% vs. 27%; p=0.007). CRi was not associated with delayed engraftment or acute graft-versus-host-disease. In a multivariate analysis, CRi versus CR was an independent factor associated with shorter OS (hazard ratio [HR] 2.01; 95% CI, 1.24–3.25; P = 0.005) and NRM (HR, 3.5; 95% CI, 1.6–7.8; P = 0.002). Similar influence was for CRi with anemia: OS (HR, 2.13; 95% CI, 1.04–4.35; P = 0.039) and NRM (HR, 3.75; 95% CI, 1.34–10.75; P = 0.012). Other significant factors were age and adverse cytogenetics for OS, age for NRM, and adverse cytogenetics for relapse.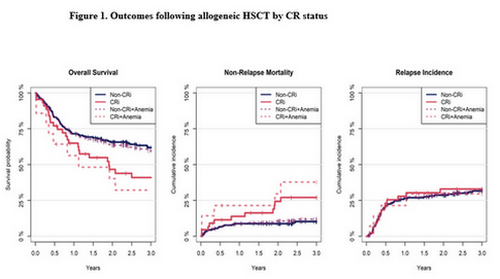 Conclusion
Complete remission with incomplete hematologic recovery in AML patient undergoing allogeneic-HSCT is a potent predictor of non-relapse mortality but not relapse. We hypothesize that CRi is a surrogate marker for cumulative toxicity of previous treatments and should therefore be considered when evaluating patients for HSCT.
Session topic: 4. Acute myeloid leukemia - Clinical
Keyword(s): Acute myeloid leukemia, Allogeneic hematopoietic stem cell transplant, Complete remission, Survival prediction