Abstract: PS1016
Type: Poster Presentation
Presentation during EHA24: On Saturday, June 15, 2019 from 17:30 - 19:00
Location: Poster area
Background
Acute myeloid leukemia (AML) is a clonal disease characterized by the proliferation and accumulation of myeloid precursors in the bone marrow. Currently it is recommended that all AML patients be tested for the presence of FLT3-internal tandem duplication (FLT3-ITD) mutations. Moreover, it is recommended that the allelic ratio (AR) (FLT3-ITD/FLT3-WT) be determined in order to establish the genetic risk category. It has been previously shown that FLT3-ITD mutations induce a specific phenotype in leukemic blasts which is characterized by high levels of CD33 & CD123, and that CD33 & CD123 levels are dependent of FLT3-ITD AR levels.
Aims
In this study we investigated whether the antigen expression patterns of leukemic blasts are dependent of FLT3-ITD expression level relative to WT.
Methods
Thirty-six FLT3-ITD AML cases were included in the current analyses, of which 18 (50%) were positive for NPM1 mutations. Acute promyelocytic leukemia cases were excluded. A control group was formed of 84 FLT3-ITD negative AML cases matched for age, FAB subtype, cytogenetic subtype, and the presence of NPM1 mutations. The gating strategy was based on selecting leukemic blasts populations from the CD45/SSC gate, verified by CD117, CD34 and HLA-DR backgating. The antigen panel tested was: CD4, CD7, CD9, CD13, CD14, CD33, CD34, CD56, CD64, CD71, CD117, and CD123. Quantitative antigen expression was determined as the ratio between the geometric mean fluorescence intensities (MFIs) of leukemic blasts which were normalized to the MFIs of negative lymphocyte populations for the respective markers. FLT3-ITD DNA and RNA analyses were performed, under the same conditions, by capillary electrophoresis. In order to quantitatively determine FLT3-ITD allele and mRNA levels, the area under the peak of FLT3 amplicons was used to calculate: (1) the FLT3-ITD/FLT3-WT AR; (2) the FLT3-ITD/FLT3-WT RNA ratio (RR). The relative abundance of FLT3-ITD mRNA was calculated as the RR/AR ratio. All data sets had non-normal distributions and non-parametric tests were used.
Results
Of the 36 FLT3-ITD cases, 26 patients had good quality RNA samples available for analyses. When compared with the control group, the FLT3-ITD cohort presented significantly higher CD7, CD33 and CD123 levels (Mann-Whitney U Test). To evaluate the impact of FLT3-ITD levels on antigen expression, patients were separated into 2 groups according to: (1) AR <0.5 (15 patients) & AR ≥0.5 (21 patients), as per current AML management guidelines; (2) RR <0.8 (11 patients) & RR ≥0.8 (15 patients); (3) FLT3-ITD mRNA abundance RR/AR≈ 1 (5 patients) & RR/AR> 1 (20 patients), 1 excluded patient presented RR/AR ratio <1. There were no statistical differences between CD7, CD33 and CD123 levels for all sets of 2 groups (Mann-Whitney U Test) (Figure 1). We also tested the correlation between CD7, CD33, CD123 MFI ratio values and the 3 FLT3-ITD quantitative parameter values, with no significant correlations (Pearson's correlation).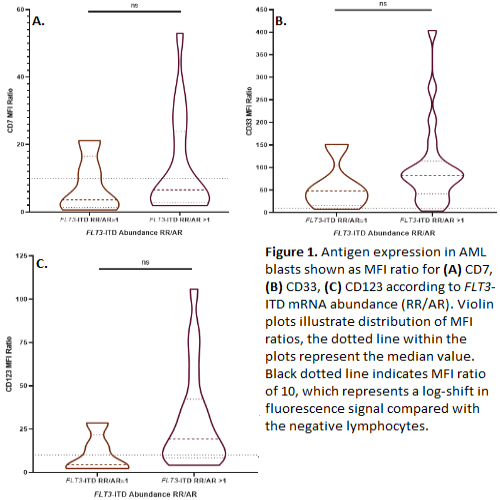 Conclusion
The presence of FLT3-ITD mutations induces a specific antigen profile in AML blasts, however the profile is essentially unchanged among the FLT3-ITD cohort regardless of the FLT3-ITD expression level. Our data does not correlate with previous reports in which both CD33 & CD123 expression were influenced by the FLT3-ITD AR. Possible reasons for these results could be due to differences in the statistical tests used, the different AR cut-off, or it could represent differences between patient cohorts.
References: Ehninger A, et al. Blood Cancer J. 2014 Jun; 4(6):e218; Haubner S, et al. Leukemia, 2019 Jan; 33(1):64-74.
Session topic: 3. Acute myeloid leukemia - Biology & Translational Research
Keyword(s): Acute myeloid leukemia, Flow cytometry