Abstract: PS1013
Type: Poster Presentation
Presentation during EHA24: On Saturday, June 15, 2019 from 17:30 - 19:00
Location: Poster area
Background

Dysregulated trans-acting factors are key elements in the leukemogenic process. Aberrant expression of GATA-1, a master regulator of several hematopoietic genes has been reported in myeloid leukemias. Maintenance of a balanced expression of the two isoforms of the transcription factor GATA-1, the full-length protein (GATA-1FL) and a shorter isoform (GATA-1S), contributes to control hematopoiesis, whereas their dysregulation can alter the differentiation/proliferation potential of hematopoietic precursors (WY Lee et al. 2018; JD Crispino et al. 2017). Elevated GATA-1S levels have been recognized as a poor prognostic factor thus further emphasizing the pro-leukemic role of this isoform in hematological malignancies.
Aims
We evaluated the oxidative stress associated with different GATA-1 isoforms over-expressed in the myeloid leukemia cell line K562 and their resistance to pro-apoptotic stimuli.
Methods
K562 cells were transiently transfected with expression vectors for GATA-1FL and GATA-1S isoforms. Cytoplasmatic ROS levels were evaluated by flow citometry with the CellROX Deep Red reagent (Thermo Fisher Scientific).Antioxidant capacity was evaluated by measurements of Cu/ZnSOD and MnSOD protein levels and of total and oxidized glutathione (GSH/GSSG-Glo Assay kit, Promega).Cell viability and apoptosis rate were determined with MTT (Sigma Aldrich) and Annexin V/Pi (BD Biosciences) assays on cells over-expressing GATA-1 isoforms and treated with cis-platin alone or co-treated with quercetin and cis-platin.
Results

Cytoplasmatic ROS resulted to be significantly increased in cells over-expressing GATA-1FL (GATA-1FL cells) compared to GATA-1S cells. Total GSH levels were found reduced in GATA-1FL cells and, conversely, increased in GATA-1S cells in which we also observed an higher GSH/GSSG ratio. According to the different cytoplasmatic ROS levels detected in these cells, these findings further reinforce the evidence of an enhanced antioxidant capacity in GATA1S cells and of an higher oxidative stress status in GATA-1FL cells. Accordingly, we also found a significant decrease in the MnSOD protein levels in GATA1S cells (Fig. 1A-B). Furthermore, we were able to demonstrate a correlation between these data and the lower cell viability and higher apoptotic rate detected in GATA-1FL cells exposed to a 10 microM dose of the pro-apoptotic drug cis-platin, in contrast with the strong resistance to apoptotis shown by GATA-1S cells. The relationship between changes in proliferation and apoptosis with cell redox states was also demonstrated by analyzing the antioxidant effects of quercetin, a natural flavonoid compound, on transfected cells. According to cell viability data, after 24 hours of  50 and 150 microM quercetin treatment, GATA-1S cells showed an enhanced apoptotic rate with respect to the GATA-1FL counterpart. To confirm the changes in the apoptotic susceptibility induced by quercetin in GATA-1FL and GATA-1S cells, apoptosis was also evaluated after co-treatment with 10 microM cis-platin. Results clearly demonstrated the enhancer activity of quercetin on the apoptosis susceptibility in both cell types and, more interestingly, its ability to revert the resistance to apoptosis shown by GATA-1S cells when treated with cis-platin alone (Fig. 1C-D).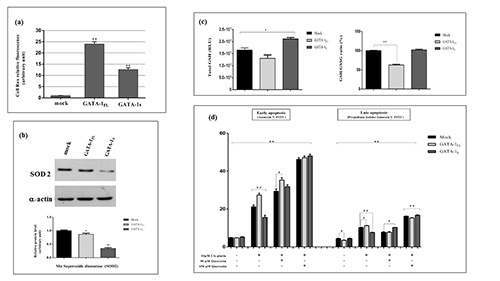 Conclusion
Our study highlights a mechanism to possibly circumvent the apoptotic resistance triggered by aberrant expression of GATA-1 isoforms in myeloid leukemia cells. Expectedly, a better understanding of this mechanism can eventually lead to design more effective ROS-based therapies in myeloid leukemias.
Session topic: 3. Acute myeloid leukemia - Biology & Translational Research
Keyword(s): Apoptosis, GATA-1