Abstract: PF816
Type: Poster Presentation
Presentation during EHA24: On Friday, June 14, 2019 from 17:30 - 19:00
Location: Poster area
Background

The blood units, stored as packed red blood cells (PRBC), are supplied according to the first-in-first-out (FIFO) criterion. However, the actual quality of the PRBC provided for transfusion, namely their capacity to exert the expected transfusion outcome, is not addressed.
Aims

The present study was undertaken to analyze unit-to-unit variability in deformability of PRBC during their cold-storage.
Methods

Study design: RBC samples were obtained from 20 leukoreduced PRBC units, stored in SAGM under standard conditions, and deformability of cells were monitored from the day of donation through storage for 42 days.
RBC deformability was determined, using our original computerized cell flow-properties analyzer (CFA), by cell elongation under a shear stress of 3.0 Pa, expressed by the elongation ratio, ER = a/b, where a and b are the major and minor axes, respectively. E.g., ER = 1 reflects round RBC that are not deformed at the shear stress applied. The image analysis determines the ER for each cell and provides the deformability distribution in RBC population of 5000 – 8000 cells. Since the ER distribution is asymmetric, the median ER (MER), rather than the average, was used to characterize the difference in deformability between samples. In addition, the cell population was categorized into three deformability percentiles: % of low deformable cells (LDFC, ER ≤ 1.3), % of medium-range deformable cells (MDFC, 1.3 < ER ≤ 2.0) and % of highly- deformable cells (HDFC, ER > 2.0).
Results

The deformability of freshly-collected RBC exhibited marked variability already on donation day. Routine cold-storage further induced a progressive reduction of PRBC deformability (after three weeks of storage), and the variability between units does not change significantly with storage duration. Thus, percent of low deformable cells in RBC population (see Figure) increase from 32.7 ± 12.6% (donation day) up to 42.6 ± 15.7% (42 days of storage).  
At any storage duration, the actual PRBC deformability exhibited a clear dependence on the initial value.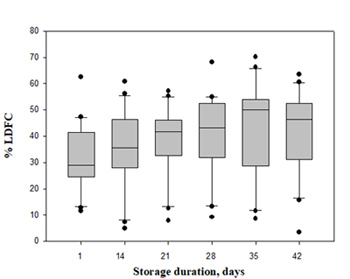 Conclusion

At any stage of the cold-storage, there is substantial variability in PRBC deformability, which is determined primarily by initial (at collection day) level, and is further reduced, although moderately, with time, implying that the effect of storage duration is only one, and seemingly not the important one, of the determinants of the PRBC deformability.
This implies that the FIFO criterion is not sufficient for characterization of the PRBC quality and the determination of cells deformability is essential for the assessment of the potential effectiveness of PRBC transfusion.
Session topic: 31. Transfusion medicine
Keyword(s): Erythrocytosis, Red blood cell, Transfusion