Abstract: PF792
Type: Poster Presentation
Presentation during EHA24: On Friday, June 14, 2019 from 17:30 - 19:00
Location: Poster area
Background

The previous studies have shown that Tumor Educated Platelets (TEPs) RNA may complement currently used biosources and biomolecules employed for liquid biopsy diagnosis. RT-PCR is a regular method to measure gene expression levels to stage the patients and evaluate their prognosis. As there are little research on reference mRNA in platelets, especially in cancer。
Aims

Our study is to find the proper internal controls for RT-PCR in platelet study.
Methods
Firstly, based on dataset GSE68086, we found 285 genes with relatively equal expression in 4 kinds of high incidence cancer (non-small cell lung cancer (NSCLC), colorectal cancer (CC), breast cancer (BC) and liver cancer (LC)) and healthy control (HC). 95 genes left after screening with the criteria of mean>1 and coefficient of variation (cv) <1. Secondly, we gained 73 common reference genes from previous reported studies. Thirdly, we obtained 7 candidate reference genes (ACTB, B2M, GAPDH, GNAS, OAZ1, PTMA and YWHAZ) after intersected the 95 genes and 73 genes. At last, we extracted total RNA from 1.5 ml blood in 30 unselected persons, including 6 NSCLC, 6 CC, 6 LC, 6 BC, and 6 HC, and performed RT-PCR with equal quantity of RNA to measure the expression levels of the candidate reference genes.
Results

All of 7 candidate reference genes performed well in 5 tested groups with a cv<0.1. Both B2M and GAPDH were the most stably expressed with a cv<0.05, but the expression of B2M was much higher than GAPDH in platelets.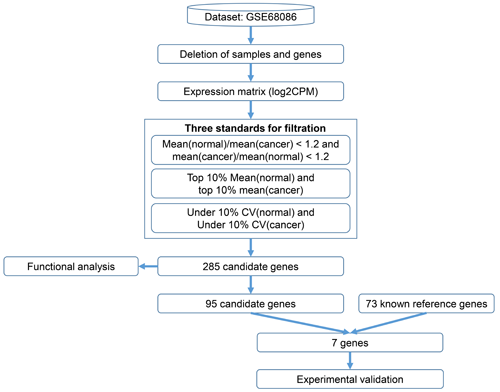 Conclusion
We have found 7 platelets mRNA with relatively same expression levels among several solid tumors and healthy people, which can be used as reference genes for mRNA measuring of platelets. Among them, B2M may be the best reference control gene.
Session topic: 34. Thrombosis and vascular biology - Biology & Translational Research