Abstract: PF777
Type: Poster Presentation
Presentation during EHA24: On Friday, June 14, 2019 from 17:30 - 19:00
Location: Poster area
Background

In the context of significant advances in the treatment of hematological diseases using the method of autologous hematopoietic stem cell transplantation (auto-HSCT), the number of patients requiring early vaccination against pneumococcal infection increases worldwide. Current guidelines indicate the early initiation of pneumococcal vaccination starting from 3 months after HSCT. Still, the topical issue is the determination of the earliest optimal dates for the start of vaccination after transplantation, taking into account the dynamics of immunological recovery.
Aims

The aim of this study was to determine the optimal timeline for the onset of vaccination with conjugated pneumococcal vaccine in patients with multiple myeloma after auto-HSCT.
Methods

The immune response to the conjugated pneumococcal vaccine is based on the T-dependent (CD4+) activation of B-cells, what was taken into account when estimating the timing of immune reconstitution after auto-HSCT in candidates for vaccination.
An immunological study using flow cytometry was performed in 37 adult patients with multiple myeloma prior to the auto-HSCT procedure, as well as on days +30, +60, +90, +180 after transplantation.
Results

After auto-HSCT, the level of naive B-cells returns to its original value by the 60th day from transplantation (Kruskal-Wallis test 41.97; P<0.001), shown on Fig. 1. At the same time, the level of CD4 + cells did not fall below 200 cells/μl starting from day +30, what indicates the effectiveness of early vaccination with T-dependent vaccines in this category of patients with immunosuppression. Dendritic cells (DC1 and DC2) are restored in parallel by the 30th day from auto-HSCT (Kruskal-Wallis test 25.78; P <0.001 for DC-1 cells and Kruskal-Wallis test 11,17; P <0.025, respectively), what confirms the basis for the early vaccination with conjugated pneumococcal vaccines in this category of patients.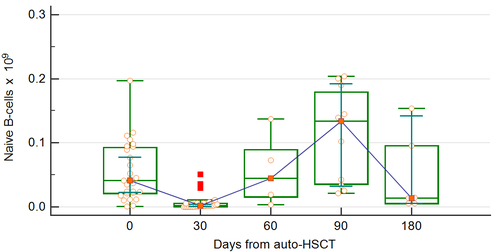 Conclusion

The obtained data allows planning the introduction of the first dose of the conjugated pneumococcal vaccine 60 days after autologous HSCT, with the perspective of introducing an individualized vaccination calendar based on immunological parameters. It is also necessary to further implement immunization programs for immunocompromised patients, especially in hematology and cancer setting with the participation of a multidisciplinary team of specialists.
Session topic: 22. Stem cell transplantation - Clinical
Keyword(s): Autologous hematopoietic stem cell transplantation, Flow cytometry, Immunology, Vaccination