Abstract: PF773
Type: Poster Presentation
Presentation during EHA24: On Friday, June 14, 2019 from 17:30 - 19:00
Location: Poster area
Background
Chronic graft versus host disease (cGVHD) occurs as autoimmune and alloimmune late complication of hematopoietic stem cell transplantation (HSCT) which affects  many organs and tissues in unpredictable fashion.  Oral cGVHD manifests with variety of lesions and symptoms. According to the National Institutes of Health (NIH) Consensus Conference held in 2014 diagnostic signs of oral cGVHD are lichen planus-like lesions on oral mucosa, and distinctive signs include ulcers, pseudomembranes, mucosal atrophy, mucoceles and xerostomia.  Common accompanying symptoms in patients with oral cGVHD are dysgeusia, xerostomia,  oral pain and sensitivity. Given the importance of zinc (Zn) in supression of allogeneic reaction and regulation of the immune system and taste, and given the role of magnesium (Mg) in prevention of neurological disturbances, both may have role in optimal immunomodulation.
Aims
To determine serum levels  of Zn and Mg in patients with cGVHD in relation to severity of oral cGHVD, presence of dysgeusia and oral sensitivity.
Methods
Study included 42 cGVHD patients (50% female), median age 43,5 (range 14-66) years who underwent allogeneic HSCT  and are being monitored by the multidisciplinary cGVHD  team at the University Hospital Center Zagreb, Croatia.  This cohort consisted of  23 patients with diagnostic signs of oral cGVHD  and 19 control patients without oral cGVHD. Patients with oral cGVHD were distributed according to the disease severity in mild, moderate and severe. Measurements of serum Zn and Mg were performed by using atomic absorbtion spectroscopy (AAS) (Zn normal range: 9,9-17,9 μmol/L) and ion selective method (ISE) (Mg normal range: 0.65-1.05 mmol/L), respectively.  In all patients serum levels of Zn and Mg were compared with severity of oral cGVHD, dysgeusia and oral sensitivity status. Correlations were assessed with Spearman's rank or Pearsons correlations coefficients as appropriate. Independent sample  t-test was used to compare element measurements in 2 groups and ANOVA was used for comparisons of more than 2 groups. Chi-square test was used for testing of categorical data.
Results
All patients with oral cGVHD had dysgeusia and oral sensitivity and reduced serum Zn (p<0.0001) and Mg (p=0,0048) compared to control patients without oral cGVHD. Serum levels of Zn were in negative correlation with severity of oral cGVHD (rho=-0.568),  dysgeusia (rho=-0,629, p <0,0001) and oral sensitivity (rho=-0,486, p=0,0011). Serum levels of Mg had slightly weaker correlation with the degree of cGVHD (rho=-0.427, p = 0.0048), dysgeusia  (rho=-0,497, p=0,0008 ) and oral sensitivity (rho=-0.396, p = 0.0095). In both cases negative correlation was moderate (Figure 1).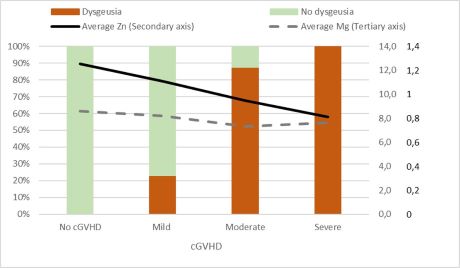 Conclusion
Lower serum levels of Zn and Mg in oral cGVHD patients could have diagnostic and therapeutic implications. Suplementation of Zn and Mg may contribute to  immunomodulation and prevention of oral symptoms
Session topic: 22. Stem cell transplantation - Clinical
Keyword(s): Chronic graft-versus-host