Abstract: PF767
Type: Poster Presentation
Presentation during EHA24: On Friday, June 14, 2019 from 17:30 - 19:00
Location: Poster area
Background
The use of ex vivo T-cell-depleted haploidentical hematopoietic stem cell transplantation (haplo HSCT) minimizes the risk of severe graft-versus-host disease (GVHD). However, delayed immune reconstitution increases the risk of serious infections and relapse. ATIR101 is a donor-derived, T-cell-enriched leukocyte preparation depleted ex vivo of host-alloreactive T cells. When administered as an adjunctive infusion after T-cell-depleted haplo HSCT, ATIR101 aims to deliver donor T cells that can facilitate early immune protection and provide anti-leukemic activity while minimizing the risk of GVHD.
Aims
In a previous Phase 2 study of a single ATIR101 infusion of 2×106 T cells/kg in patients with AML/ALL, overall survival (OS) at 1 year was 61% with no cases of Grade III/IV acute GVHD (aGVHD; Ref). It was hypothesized that two doses may improve efficacy further; therefore, a Phase 2 exploratory study was conducted (CR-AIR-008; NCT02500550).
Methods
Seventeen patients with hematologic malignancies (who provided informed consent) received myeloablative conditioning followed by a CD34-selected stem cell graft. Two ATIR101 infusions of 2×106 T cells/kg derived from the same donor were planned for 28–32 and 70–74 days post HSCT. Patients did not receive GVHD prophylactic immunosuppression. The protocol allowed for evaluation of the safety of the double dose in the initial 6 patients, permitting an adjustment to a single dose in the case of dose-limiting toxicity (Grade III/IV aGVHD within 120 days post HSCT). The primary endpoint was the incidence of Grade III/IV aGVHD up to 180 days post HSCT and patients were followed for 1 year for secondary endpoints, including: transplant-related mortality (TRM), relapse-related mortality (RRM), GVHD-free relapse-free survival (GRFS), and OS.
Results
Two of the first 6 patients that who received a double dose of ATIR101 (4 AML, 2 MDS) experienced Grade III/IV aGVHD within 120 days of HSCT (1 Grade III at 25 days, 1 Grade IV at 18 days after the second dose). In accordance with the protocol, the remaining 11 patients were scheduled to only receive a single 2×106 T cells/kg dose on Days 28–32 (5 AML, 3 ALL, 3 MDS). Nine of these 11 patients received ATIR101 (2 did not receive ATIR101 due to an early death and a batch rejection); 2/11 developed Grade III aGVHD within 180 days. There were 2 cases of chronic GVHD in double-dose and none in single-dose patients. Table 1 shows secondary outcomes at 1 year. For double-dose patients, TRM was 67%, RRM was 0%, and the 1-year Kaplan–Meier (KM) estimate of OS was 33% and of GRFS was 17%. For single-dose patients, TRM was 36%, RRM was 9%, and 1-year KM estimates of OS and GRFS were 55% and 46%, respectively.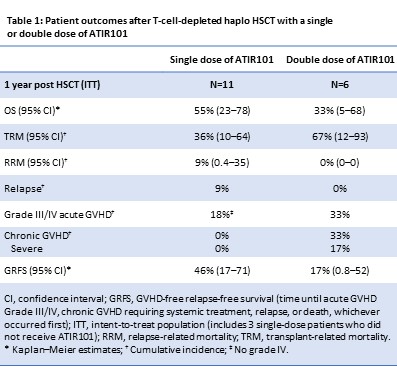 Conclusion
Administration of a single dose of ATIR101 showed a favorable safety profile. There were 2 cases of Grade III aGVHD but no Grade IV aGVHD or chronic GVHD. OS and GRFS in this study confirmed results from the larger Phase 2 study of a single ATIR101 dose, and disease relapse and TRM were limited in both studies. Based on the observed Grade III/IV aGVHD, the safety profile of a second dose at the time point evaluated does not align with previous single-dose data with ATIR101. Further investigation is needed to clarify the cell number for a second dose of ATIR101 that can be administered safely post HSCT. Based on the two Phase 2 studies with ATIR101, a large, randomized, Phase 3 trial has been initiated, comparing a single dose of ATIR101 with PTCy in haplo HSCT (HATCY; NCT02999854).
Session topic: 22. Stem cell transplantation - Clinical
Keyword(s): Acute leukemia, Adoptive immunotherapy, Clinical trial, Haploidentical stem cell transplantation