Abstract: PF761
Type: Poster Presentation
Presentation during EHA24: On Friday, June 14, 2019 from 17:30 - 19:00
Location: Poster area
Background

T cell depletion (TCD) decreases Graft Versus Host Disease (GvHD) risk after allogeneic stem cell transplantation (alloSCT). In order to induce a Graft Versus Leukemia (GvL) effect, post-transplantation cellular interventions are applied. Combination of ex vivo and in vivo Alemtuzumab, with Thymoglobulin only for unrelated donors (UD), can obviate the need for post-transplantation prophylactic immunosuppression, enabling early cellular interventions starting at 2 months after alloSCT after clearance of circulating therapeutic antibodies.
Aims

To evaluate whether early prophylactic cellular interventions after Alemtuzumab based TCD alloSCT can restore GvL effect leading to enduring relapse-free survival without chronic GvHD.
Methods

AML patients who received TCD alloSCT between April 2010 and August 2016 from a 10/10 HLA matched donor after reduced intensity conditioning (6 days 50 mg/m2 Fludarabin a day orally and 2 days Busulphan 3.2mg/kg intravenously) were included in this analysis. TCD was performed by Alemtuzumab (20mg ex vivo and 30mg in vivo) with addition of 1mg/kg Thymoglobulin in vivo for patients with UD. No standard GvHD prophylaxis nor anti leukemia chemotherapy was given after alloSCT. Goal of this strategy was to give donor derived T cell products as part of clinical trials as early as 8 weeks after alloSCT or standard unmodified donor lymphocytes (DLI) starting at 12 weeks after alloSCT in the absence of GvHD. A competing risks model was built with study T cell products, unmodified DLI, therapeutic immunosuppression (tIS) for GvHD, relapse and death as competing events. tIS was not considered a failure, since GvHD after alloSCT in this setting could be associated with GvL effect, but was not the goal of this strategy. Chronic GvHD was evaluated by measuring use of tIS in surviving relapse-free patients at 2 years after alloSCT. Long term outcomes were evaluated at 4 years, with a minimal follow-up time of 2 years after alloSCT.
Results

80 AML patients (29 with related donor (RD), 51 UD) were included with median age of 63 (range 44-76) and median Gratwohl score of 3 (range 2-6). All patients engrafted. Cumulative incidences of reaching the predefined endpoints are shown in figures 1A-B. At 7.5 months after alloSCT, all patients with a RD had reached a relevant endpoint: received a cellular intervention (79%, 95% CI 65-94), started tIS after alloSCT (7%, 95% CI 0-16), or relapsed (14%, 95% CI 1-26) before cellular intervention could be given. For patients with UD, 1-year probabilities were 78% (95% CI 67-90) for reaching planned cellular intervention and 8% (95% CI 0-15) for both relapse and death without event. No patient with UD needed tIS after alloSCT. As shown in figures 1C-D, overall survival at 4 years after alloSCT was 60% (95% CI 39-81) and 50% (95% CI 35-64) for patients with RD and UD, respectively, with relapse-free survival of 60% (95% CI 40-81) and 43% (95% CI 29-58). Of the 47 patients still alive without relapse at 2 years after alloSCT, 83% (95% CI 69-92) did not need tIS at that time.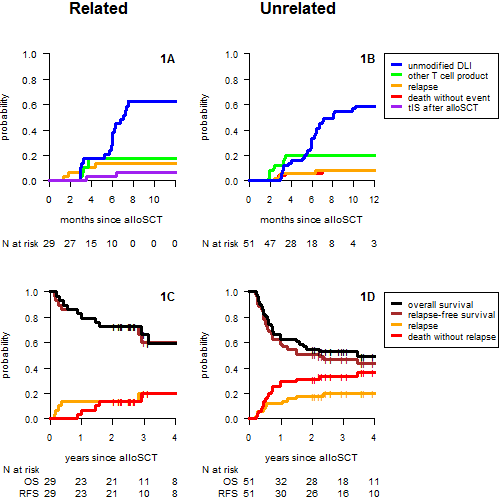 Conclusion

A strategy of Alemtuzumab based TCD alloSCT without post-transplantation prophylactic immunosuppression followed by prophylactic cellular interventions starting at 2 months is feasible in older and frail AML patients. This strategy led to a low relapse risk with 4-year relapse-free survival of 60% and 43% for patients with related and unrelated donor, respectively. At 2 years, only 17% of surviving relapse-free patients needed long term immunosuppression for chronic GvHD.
Session topic: 22. Stem cell transplantation - Clinical
Keyword(s): Acute myeloid leukemia