Abstract: PF743
Type: Poster Presentation
Presentation during EHA24: On Friday, June 14, 2019 from 17:30 - 19:00
Location: Poster area
Background

Pneumococcal disease prophylaxis with antibiotics and vaccination has a clear mortality benefit in children with sickle cell disease (SCD), with the greatest benefit in children under 5 years [1]. The benefit in adults, who also have functional hyposplenia, is less clear with no trial evidence to support or refute prophylaxis in this group. Current guidelines [2] recommend that adults with SCD have pneumococcal vaccination every 5 years and take antibiotic prophylaxis only if they are compliant, so reducing the theoretical risks of antimicrobial resistance in those who are partially compliant.
Aims

Our aim was to establish the current uptake of pneumococcal vaccination and antibiotic prophylaxis in our adult patients with SCD. We wished to ascertain whether a difference exists in episodes of infection for patients who are fully compliant with pneumococcal prophylaxis and those who are not. MiniTab 18 was used for data analysis.
Methods

Adult patients with SCD known to the Oxford Red Cell tertiary centre were identified from annual review assessments and a descriptive analysis was undertaken on patient demographics, co-morbidities, prophylaxis compliance and pneumococcal vaccination status, and episodes of infection occurring from 2015-2019.
Results

133 patients with SCD were identified. 53% were female and the median age was 34 years (range 16-75 years) (see Table 1). 67% of patients were prescribed antimicrobial pneumococcal prophylaxis. Of these, 21% were known to be non-compliant. 100% of patients were asked to attend their GP for vaccination but only 58% of patients had documentation of pneumococcal vaccination. From 2015 to 2019 there were 41 episodes of infection recorded in 31 patients but only 12 had positive cultures. There was no significant difference in infection rate between patients on prophylaxis and compliant (17/31) and remaining patients (14/31) (p=0.61). There was one episode of confirmed pneumococcal disease and this was in a patient non-compliant with prophylaxis and not up-to-date with vaccination.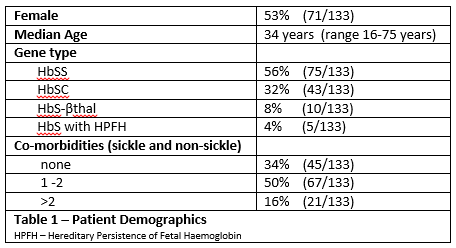 Conclusion

While the majority of our patients were prescribed antibiotic prophylaxis, due to non-compliance, only half of our cohort were taking antibiotics reliably. There were few culture positive cases of infection, indicating that adults with SCD are at lower risk of infection compared with children, consistent with the literature [3]. In our cohort, over the 3 year period, there was only 1 documented case of pneumococcal disease. The low incidence of infection may have been due to our cohort being of younger age, with few comorbidities and a relatively high proportion of lower risk genotype. This work highlights the need for prospective, randomised evidence in SCD patients to establish whether a benefit exists for pneumococcal prophylaxis in adulthood.
[1] Gaston M, Verter J, Woods G, et al. New Engl J Med 1986; 314(25): 1593-9
[2] Sickle Cell Society. Standards for the clinical care of adults with sickle cell disease in the UK. 2nd edition, 2018
[3] Falletta J, Woods G, Verter J, et al. J Pediatr 1995; 127(5):685-90
Session topic: 26. Sickle cell disease
Keyword(s): Sickle cell disease