Abstract: PF729
Type: Poster Presentation
Presentation during EHA24: On Friday, June 14, 2019 from 17:30 - 19:00
Location: Poster area
Background
LTPI improves outcomes in NDMM vs non-proteasome inhibitor (PI)‑based therapy. However, the efficacy improvements seen in clinical trials are often not achieved in real-world settings and duration of PI-based therapy is typically shorter in US non‑transplant NDMM RW pts (Niesvizky 2015) vs in phase 3 trials (San Miguel 2008; Mateos 2018). This may be due to poor treatment adherence, burden of repeated parenteral administration (which can negatively impact quality of life [QoL]), comorbidities, financial burden, distance from treatment center, physician/pt preference, or toxicity (eg peripheral neuropathy [PN] with btz, which can worsen with prolonged exposure and lead to discontinuation) (Richardson 2018). Maintaining QoL, minimizing toxicity and increasing adherence are critical for NDMM pts receiving LTPI. US MM-6 is a RW US community-based phase 4 study investigating transitioning from a parenteral PI (btz) to an oral PI (ixa) in NDMM to increase PI-based treatment adherence and duration, maintain QoL and improve outcomes.
Aims
We report preliminary demographics, baseline disease characteristics, actigraphy and electronic pt‑reported outcomes (ePRO) compliance data for US MM-6 pts receiving all-oral ixa‑lenalidomide-dexamethasone (IRd). 
Methods
US MM-6 (NCT03173092) is enrolling ~160 non-transplant pts (transplant-ineligible or transplant delayed >24 months) with ≥stable disease after 3 cycles of a btz-based induction, at ~30 community sites. Pts receive IRd (ixa 4 mg on day 1, 8, and 15, lenalidomide 25 mg on days 1–21, dexamethasone 40 mg [20 mg for pts aged >75 years] on day 1, 8, 15, and 22, of each 28‑day cycle) until progression or toxicity for ≤26 cycles. QoL and monthly medication adherence are assessed via ePROs. Pts use wearable digital devices and smartphones to inform on their experience with an all-oral PI‑based regimen by recording daily pt-reported medication adherence and actigraphy (average activity [steps], total sleep and deep sleep time per day). Primary endpoint: progression-free survival (PFS); secondary endpoints: response, duration of therapy, ePRO compliance, overall survival (OS), and safety. We report preliminary data for the first 25 patients enrolled.
Results
At data cutoff, 80% of pts were aged ≥65 years, 40% were male, 3/23 (13%) were of non-white race, 16% were of Hispanic/Latino ethnicity, and 9/21 (43%) had International Staging System stage III disease. Comorbidities included renal and urinary disorders (48%), PN (28%), and cardiac disorders (24%). At data cutoff, 3 (12%) pts had discontinued study treatment due to pt/physician preference. Pts have received a median of 5 (range 1–12) cycles of IRd to date (plus 3 cycles of pre-enrollment btz-based therapy). Average ePRO compliance was 92% (Figure). At data cutoff, 24 pts recorded actigraphy data (2086 compliant days [≥12 hours of data]); mean (standard deviation) number of steps/day and total sleep time were 3236 (3540) and 8.35 (3.21) hours, respectively. Response, PFS, and OS were not available at data cutoff.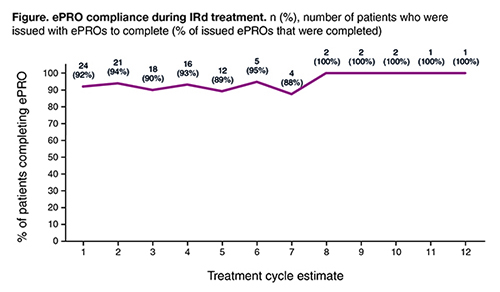 Conclusion
Duration of PI-based therapy is similar to previously published reports of LTPI; US MM-6 pts are older with a higher rate of advanced stage disease vs previous LTPI studies, yet have high compliance rates. US MM-6 will provide useful data on pt/disease characteristics and outcomes, including QoL and actigraphy, for IRd-treated US NDMM RW pts receiving LTPI.
Session topic: 35. Quality of life, palliative & supportive care, ethics and health economics
Keyword(s): Clinical trial, Multiple myeloma, Proteasome inhibitor