Abstract: PF728
Type: Poster Presentation
Presentation during EHA24: On Friday, June 14, 2019 from 17:30 - 19:00
Location: Poster area
Background
Serum uric acid control is of prime importance in prevention of tumor lysis syndrome. Each mg/dl rise in uric acid increases the risk of tumor lysis syndrome and renal events by 1.75-fold and 2.25-fold respectively. We compared two xanthine oxidase inhibitors - allopurinol and febuxostat as hypouricemic agents in patients of acute leukemias. 
Aims
The aims of the study were to assess the change in serum uric acid levels from baseline to day+7 after chemotherapy and to determine the incidence of tumor lysis syndrome in both groups.
Methods
In this single-institution prospective cohort study (study period – January2017 – July2018), acute leukemia patients scheduled to receive induction chemotherapy were administered either allopurinol or febuxostat, starting atleast 1 day prior to chemotherapy till 8 days after chemotherapy. Daily dose for Allopurinol was 300mg/m2 and for febuxostat, it was 80mg (10mg daily for children <=15years). Patients with baseline uric acid level >8mg/dl, presence of hepatic or renal dysfunction and history of receiving rasburicase were excluded. The primary objective was to compare both the drugs in terms of decrease in serum uric acid levels analysed by area under curve (AUC) for a 7-day treatment period.
Results
A total of 120 patients (60 patients in each group) were recruited. Both groups were comparable in terms of gender, age, diagnosis and baseline uric acid levels. Mean AUC of serum uric acid day1-8 was 457.68 ± 27.55 mg-h/dL versus 532.32 ± 34.39 mg-h/dL, in favour of febuxostat [P=0.09].The difference between the two study drugs was statistically significant for febuxostat on day+3 [P<0.05] (Figure 1).10% (n=6) patients on allopurinol developed TLS compared to 3.33% (n=2) patients on febuxostat. The Odds ratio for tumor lysis syndrome in patients receiving febuxostat relative to those receiving allopurinol was 0.33. Drug related adverse events were 38.33% (n=23) in allopurinol group, in contrast to 11.66% (n=7) in the febuxostat group. Most common adverse event in allopurinol arm was gastrointestinal, whereas in febuxostat arm, it was asymptomatic transaminitis. Cutaneous reactions (6.6%;n=4) were noticed only in allopurinol group.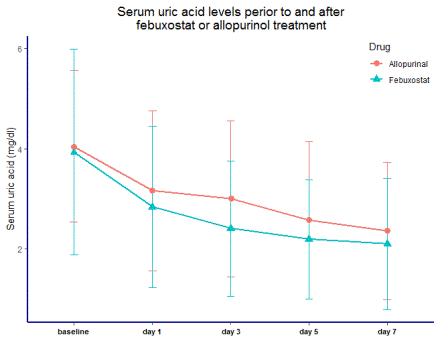 Conclusion
Irrespective of type of leukemia, lactate dehydrogenase levels, leukocyte counts and baseline uric acid levels, febuxostat in comparison to allopurinol, performed non-inferior with respect to its uric acid lowering efficacy. It had relatively lesser risk of tumor lysis syndrome with a trend towards significance and a better safety profile.
Session topic: 35. Quality of life, palliative & supportive care, ethics and health economics
Keyword(s): Acute leukemia, Tumor lysis