Abstract: PF724
Type: Poster Presentation
Presentation during EHA24: On Friday, June 14, 2019 from 17:30 - 19:00
Location: Poster area
Background
Introduction of several new, more effective and less toxic therapies have helped improve NDMM 5-year survival rate from 35% in 2000 to 51% in 2015. The selection of first-line (1L) treatment often depends on whether a patient is deemed eligible for stem cell transplant.  
Aims
With an evolving treatment paradigm and regional differences in the definition of transplant-eligibility, we sought to use real-world data to assess demographic characteristics, comorbidities and treatment regimens among MM patients with and without transplant
Methods
Retrospective cohort analysis was conducted using the following 3 US-based de-identified data sources: 1) Truven MarketScan Commercial, and Supplemental Medicare Database; Copyright © 2019 Truven Health Analytics LLC. All Rights Reserved); 2) Clinformatics® Data Mart Database (Optum®, Eden Prairie, MN) (CDM); 3) Flatiron Health EHR-derived database. The data sources include details on medical and drug utilization. Patients with ≥2 medical records with diagnosis of MM on different days (ICD-9-CM 203.0x; ICD-10: C90.0x) were identified. NDMM patients were ascertained based on no prior evidence of MM-related treatments or MM diagnosis during 12 months prior to first-MM diagnosis date (Truven and CDM only). Cohort was restricted to patients who initiated 1L MM treatment within 60 days of diagnosis, were ≥18 years at 1L initiation (2011-2018). Patients without any other primary or secondary malignancy prior to NDMM diagnosis (Truven and CDM only). Patients with a medical record of transplant after 1L treatment initiation were identified. Among these patients, time to transplant, year of transplant, and treatments received prior to transplant were assessed. Demographic characteristics, comorbidities (Quan-Charlson Comorbidity Index [QCCI]) and 1L treatments were reported among patients with and without transplant across the three databases (QCCI for Truven and CDM only). All analyses were descriptive in nature and were conducted using the Instant Health Data (IHD) platform (BHE, Boston, MA) and SAS software version 9.4 (SAS Institute Inc., Cary, NC, USA).
Results
Study included 11,383 patients across the three data sources (Truven n = 4,502; CDM n = 2,598; Flatiron Health n = 4,283). Post 1L treatment initiation, the proportion of patients with a medical record for transplant was 31%, 25%, and 28% in Truven, CDM, and Flatiron Health, respectively. The median age at diagnosis among patients with and without transplant was as follows: (Truven: 59 vs. 67 years), (CDM: 61 vs. 74 years) and (Flatiron Health: 61 vs. 73 years). Median time from 1L treatment initiation to transplant receipt was 5.8, 5.9 and 6.5 months for patients in Truven, CDM, and Flatiron Health databases, respectively. The top 5 most common treatment regimens (2011-2018) observed among patients with and without transplant are reported in Figure 1.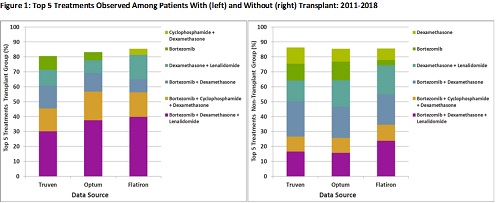 Conclusion
Findings from this real-world patients study indicate that patients receiving transplant were younger, had fewer QCCI-based comorbidities and had commercial insurance compared with patients without transplant. Additionally, patients with transplant had higher use of triplet therapies compared with doublet therapies observed among patients without transplant. Treatment regimens observed among patients with transplant were consistent with the NCCN guidelines. Differences in populations covered by each database (e.g., Truven – employer sponsored health plan enrollees) need to be considered in interpreting results across the three data sources. 
Session topic: 35. Quality of life, palliative & supportive care, ethics and health economics
Keyword(s): Myeloma, Therapy, Transplant