Abstract: PF703
Type: Poster Presentation
Presentation during EHA24: On Friday, June 14, 2019 from 17:30 - 19:00
Location: Poster area
Background
Fostamatinib (Tavalisse®), an oral SYK inhibitor was approved in 2018 for the treatment of adults with chronic ITP who had an insufficient response to a prior treatment. In two randomized, double-blind studies, 102 patients received fostamatinib and 48 received placebo; in the open-label extension study, 123 received fostamatinib, including 44 from the placebo group.
Aims
This abstract provides an update on 146 patients who have had up to 3 years of fostamatinib treatment.
Methods
 Adults with persistent/chronic ITP who had failed ≥1 prior therapy and had ≥3 platelet counts <30,000/μL at screening, were treated with fostamatinib at 100mg BID, which increased to 150 mg BID based on tolerability, if platelets were <50,000/μL after 1 month. An overall response (post-hoc analysis) was defined as achieving ≥1 platelet count of ≥50,000/µL within the first 12 weeks of treatment. Analyses excluded counts within 4 weeks of rescue therapy.
Results
At the time of analysis, 42 (29%) of the 146 patients who received fostamatinib were continuing treatment. Reasons for treatment discontinuation included lack of response (41%), adverse events (AEs) (18%) and other (12%).
An overall response occurred in 64/146 (44%) patients. Responders had reduced need for rescue medications and fewer bleeding episodes. The median platelet count in overall responders remained above 50,000/µL for more than 36 months.
The most common AEs were diarrhea, hypertension and nausea, which were manageable with targeted treatment, dose modifications, or treatment withdrawal. Serious adverse events (SAE) were reported in 27% of patients and were possibly related to fostamatinib in 6%. SAEs led to treatment discontinuation in 3% of patients.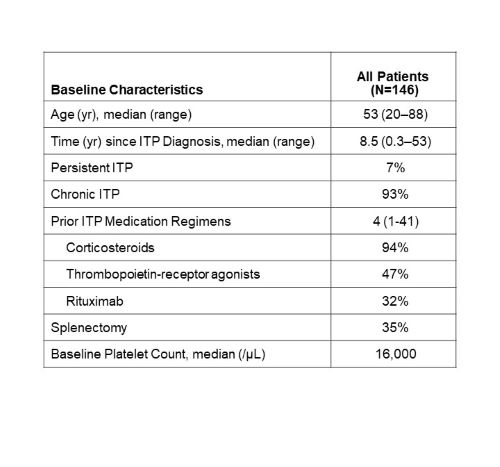 Conclusion
44% of patients had an overall response to fostamatinib. Fostamatinib was well tolerated for an extended period of time. No new safety signals and no cumulative toxicity was detected during long-term treatment with fostamatinib (up to 41 months).
Session topic: 32. Platelets disorders
Keyword(s): Autoimmune disease, ITP, Platelet count