Abstract: PF680
Type: Poster Presentation
Presentation during EHA24: On Friday, June 14, 2019 from 17:30 - 19:00
Location: Poster area
Background

Polycythemia Vera (PV) and Essential Thrombocythemia (ET), the most common Philadelphia-negative Myeloproliferative Neoplasms (MPN) are well known to increase thrombotic risk but are also at higher risk of hemorrhagic complications than the general population, mainly in patients with platelet counts > 1500 G/L, justifying a cytoreductive treatment.
Aims

Description of localization, consequences and drug use for major bleeding and clinically relevant non-major bleeding (CRNMB) in a large cohort of patients with PV or ET.
Methods

All hemorrhagic events were recorded in a large monocentric cohort (NCT02897297) of patients with PV or ET. Patients were censored at the time of leukemic transformation, but events occurring after evolution to myelofibrosis were collected. Only events classified as "major" or "clinically relevant" according to International Society on Thrombosis and Hemostasis definitions were considered.
Results

98 patients out of 867 (11.3%) experienced 132 bleeding episodes, 116 (88.6%) of which occurred during the PV or ET phase, whereas 16 (11.4%) occurred when patients had evolved into MF. The median follow-up was 8.3 years (incidence of 1.85 /100 patient-year) and the median time from diagnosis to first hemorrhage was 5.8 years. Most hemorrhagic events were classified as major (68/132 episodes, 51.5%, 0.95 /100 patient-year). Spontaneous bleeding events were the most frequent (67.4%), whereas 17.4% were considered iatrogenic and 15.2% traumatic. The most frequent localizations were gastro-intestinal tract (25.8%), hematoma (18.9%) and central nervous system (14.4%). 112 episodes (84.8%) led to either initiation or prolongation of hospitalization with a median duration of 6 days. 44 hemorrhagic events (33.3%) required a red blood cell (RBC) transfusion (mean number of RBC transfusions: 2.89), mostly for gastro-intestinal localization (43%). 45 deaths were recorded in the bleeding cohort, 17 of which were attributed to bleeding events (37.8%) particularly the central nervous system (12/17, 71%). 9 out of these 17 lethal bleeding episodes (53%) were considered spontaneous. At the time of events, 56.7% of patients received anti-platelets (56.1% as single and 1.5% as double therapy), 24.3% anticoagulations (with vitamin K antagonist: 13.6%, direct oral anticoagulants: 6.8%, others: 3.9%), 9% a combination of both, 7.6% no antithrombotic drug and 1.5% had unknown treatment. Regarding cytoreduction: 37.9% received hydroxycarbamide, 13.6% anagrelide, 12.1% pipobroman, 7.6% interferon alpha, 3.8% ruxolitinib, 3.9% combinations of cytoreductive. 18.9% had no cytoreduction, and 2.3% had unknown treatment. At the time of events, 25,8% of the patients were in complete hematological response. Platelet counts were inferior to 100.000/mm3 in only 13 cases (9.9%), and superior to 1000 Giga/L in only 7 cases (5.3%). Risk factors for bleeding are currently under investigations.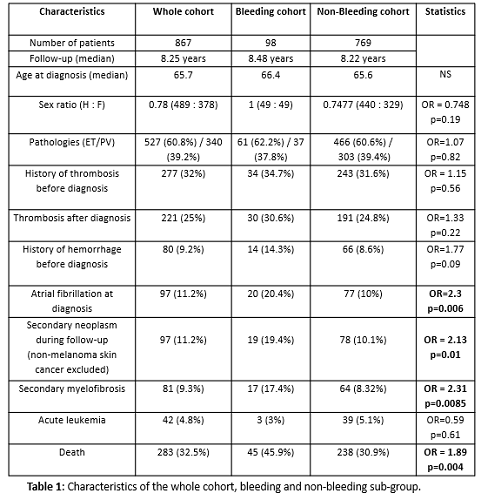 Conclusion

We showed that clinically significant bleeding complications, although rarer than thrombosis, still affect 11.3% of patients with PV or ET, amounting to an incidence of 1.85/100 patient-year. They are lethal in 12.9% of cases. Bleeding events occurred both during the chronic and fibrotic phases of MPN, including in patients with normal platelet counts. Particular localizations seemed problematic such as gastro-intestinal (high transfusion rates) and CNS (high rate of death). Risk factors for bleeding events are under study and should help guiding antithrombotic management.
Session topic: 16. Myeloproliferative neoplasms - Clinical
Keyword(s): Essential Thrombocytemia, Hemorrhage, Myeloproliferative disorder, Polycythemia vera