Abstract: PF675
Type: Poster Presentation
Presentation during EHA24: On Friday, June 14, 2019 from 17:30 - 19:00
Location: Poster area
Background
The myeloproliferative neoplasms (MPNs), including essential thrombocythemia (ET), polycythemia vera (PV), and myelofibrosis (MF) are types of hematologic malignancies accompanied by excessive symptom burden that can contribute to worsened quality of life (Blood 2011). Specific driver mutations (i.e., Jak2V617F, Calreticulin (CalR), myeloproliferative leukemia virus (MPL)) have been associated with disease features, including risk of thrombosis, blood counts and overall survival (Haematologica 2017). However, no studies have yet investigated the role of driver mutations on symptom burden profiles.
Aims
In this analysis, we address this gap by utilizing the myMPN Patient Registry to investigate the relationship of symptoms to driver mutational status.
Methods
The myMPN patient registry was created by the MPN Research Foundation's myMPN steering committee. Utilizing the Genetic Alliance platform, patients can register and complete questions regarding their MPN as well as authorize disclosures. Patients reported variables including disease features and genetic mutations were collected in the registry.The MPN10 score (JCO 2012) was used to assess patient reported symptom burden. If multiple MPN10 surveys were completed, the mean score was calculated between all completed surveys.  ANOVA, Levene's test for equality of variances, and T-tests were used to analyze statistical significance.
Results
Participants: Since its initiation in September 2017, the registry comprises a total of 789 unique participants. A total of 583 participants have entered genetic driver mutation data to date (including 474 with JAKV617F, 89 with CALR, and 20 with MPL). The frequencies of driver mutations reported by participants were similar to previously reported studies for ET (73% JAK2V617F, 22% CALR, 4% MPL), PV (99% JAK2V617F, <1% CALR), and MF (67% JAK2V617F, 26% CALR, 7% MPL). Mean age was lower for CALR (56.7 years) than for JAK2V617F (60.6 years) or MPL (59.3 years, ANOVA p=0.08).
Symptom Scores: Participants have completed a mean of 2.1 MPN10 surveys (range 1-50 surveys). As demonstrated in Figure 1, MPN10 scores for CALR patients were significantly less symptomatic than JAK2V617F and MPL patients. When evaluating individual symptom scores, fatigue was significantly different among mutation subtypes (1.1 CALR, 5.3 MPL, 4.5 JAK2V617F, ANOVA p<0.001). When comparing specific mutations, patients harboring CALR mutations were significantly less symptomatic than those with JAK2V617F mutations for items of fatigue (1.1 vs 4.4, t-test p=0.001), weight loss (0.3 vs 0.7, t-test p=0.003), and night sweats (1.1 vs 1.9, t-test p=0.02). CALR patients had worse early satiety than JAK2V617F patients (2.1 vs 1.5, t-test p=0.007). CALR patients also reported less symptomatic weight loss (0.3 vs 0.8, t-test p=0.03) than MPL patients.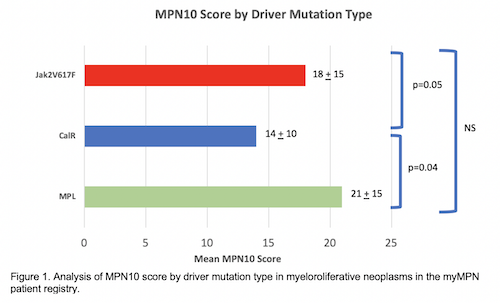 Conclusion
This represents the first analysis to identify that genetic mutations may be a contributor to specific symptom phenotypes in MPN populations. This fits with the generally known trend towards a younger age at diagnosis and more indolent clinical course of CALR mutated MPNs, however, the lower age in this cohort may also be a cofounder of less severe symptom burden. The role of symptom etiologies, including thrombotic events, comorbidities, and inflammation, and modifying mutations (i.e., ASXL1), would be ideally investigated in an independently validated database. Although the validity of patient-reported registries may be a caveat to their use, data reported in the myMPN registry mirrors closely with previously published and validated MPN populations.
Session topic: 16. Myeloproliferative neoplasms - Clinical
Keyword(s): Essential Thrombocytemia, Myelofibrosis, Polycythemia vera