Abstract: PF647
Type: Poster Presentation
Presentation during EHA24: On Friday, June 14, 2019 from 17:30 - 19:00
Location: Poster area
Background

Multiple myeloma (MM) is characterized by osteolytic bone disease which is present in 70%>80% of patients at diagnosis, increasing the risk of skeletal-related events. The initial clinical presentation in MM has been associated with overall survival (OS) (Greenberg AJ et al.2013) showing that bone disease-only as myeloma-defining event (MDE) had good outcome. However, a subgroup of patients with bone disease having pathologic fracture (PF) as the initial clinical presentation may have poorer OS and they are the focus of the study.
Aims

To assess the prognostic impact of PF as the initial MDE in newly diagnosed MM (NDMM) patients (pts).
Methods

All NDMM pts with PF as the MDE have been selected from the Granada population-based MM Registry (Ríos-Tamayo R et al.2015). The epidemiologic, clinical and cytogenetic baseline prognostic variables have been analyzed. Progression free-survival (PFS) and OS curves were estimated in months (m) by the Kaplan-Meier method and compared with the log-rank test. Comparisons for categorical variables among different groups were made with the x2-test. Comparisons of means of quantitative continuous variables between two groups were made with the t-test.
Results

Until the end of 2018, 505 NDMM pts included in our registry had the information about their MDE. 35 of them (6.93 %) showed a PF as their MDE. Pts with PF at clinical presentation had a statistically significant poorer median OS [21.3; 95% confidence interval (95% CI), 7.8-34.8 versus 38.5 m; 95% CI, 30.3-46.7; p=0.036] (Figure 1). The median PFS were 14;95% CI, 5.5-22.5 versus 21 m; 95% CI, 16.5-25.5; p=ns. No statistically differences between groups were detected for age, sex, ISS3, High Risk FISH, serum creatinine, diagnostic delay, bone marrow plasma cells or weight loss. In the PF group there was a trend to high mean LDH (347.6 versus 263.4; p=0.068), lower mean BMI (26.4 versus 28.2; p=0.056) and higher percentage of ECOG4 (18.5% versus 5.6%; p=0.096).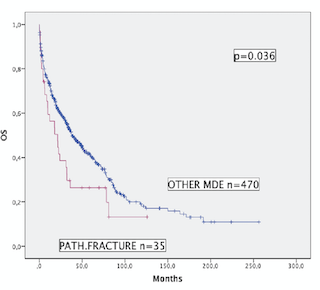 Conclusion

Despite the characteristic finding of bone disease, the presence of PF as MDE is only detected in approximately 7% of NDMM pts. This specific clinical presentation is associated with a trend to present more clinical aggressiveness evidenced by higher LDH and higher percentage of ECOG4, conditioning finally worse OS.
Session topic: 14. Myeloma and other monoclonal gammopathies - Clinical
Keyword(s): Bone disease, Multiple myeloma, Survival