Abstract: PF633
Type: Poster Presentation
Presentation during EHA24: On Friday, June 14, 2019 from 17:30 - 19:00
Location: Poster area
Background

Acute kidney injury (AKI) is presented in 20 – 22% cases at the time of the multiple myeloma (MM) onset, among them 10% of patients are requiring dialysis. AKI most commonly results from myeloma cast nephropathy (MCN). The morphological predictors of reversibility newly diagnosed dialysis-dependent AKI due to MCN are currently unknown. Some studies have shown that renal interstitial fibrosis (IF), as universal marker of chronic kidney disease, can be characterized by rapid formation (within 1 – 3 months) in MCN, unlike other diseases.
Aims

The aim of this study is to assess the prognostic value of IF score in kidney biopsy to achieving renal function recovery at Induction chemotherapy in patients with dialysis-dependent AKI due to MCN.
Methods

33 patients aged 38 to 74 years (median age=58 years) with newly diagnosed MM and dialysis-dependent AKI due to MCN were enrolled into the retro - prospective study between January 1, 2006 and December 31, 2016. MCN was defined by renal biopsy performed before the start of induction chemotherapy. Renal biopsy samples were retested. Pathologic findings were graded according to the standard semi – quantitative and also IF was measured by quantitative computerized color image analysis in sections stained with Masson's trichrome. Bortezomib-based first-line treatment regimen was used in 69% of patients; 31% of patients received chemotherapeutic agents only. The pathological results were compared with renal and overall anti-tumor response to chemotherapy according IMWG 2016. The assessment of the prognostic potential of the IF score indicator was carried out using logistic and ROC analysis.
Results

IF was found in renal biopsy samples of all patients, graded predominantly the 2nd (moderate) extant, median was 27.6% (14.5 – 59). A direct correlation was established between the severity of IF and the time of dialysis-dependent AKI before renal biopsy (r = 0.437; p <0.05). In 3 cases, the renal function improved after correction of dehydration prior to the start of specific therapy. Median time from the onset of the dialysis-dependent AKI before the start of induction anti-myeloma therapy was 42 days (8–88). From 30 patients who were dependent on hemodialysis at the beginning of chemotherapy, 17 (57%) had a hematological response, among them 10 (59%) patients had a renal response. In the absence of achieving overall anti-tumor response, the improvement of renal function was not observed in any case. Median quantifying IF in patients with renal response was 22.9% (14.5–39.3), without improvement renal function – 47.1% (40.8–59), p <0.001. The quantitative measured IF has a good reliability of the prognosis of the renal response according the area under the ROC curve (0,79). IF value 40% or more of the total renal cortex surface makes it possible to predict a lack of improvement renal function with a probability of 85% (95% CI) (Fig.), even if overall myeloma response is achieved.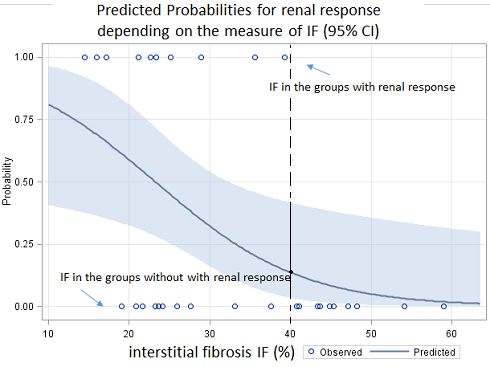 Conclusion

Renal response in patients with dialysis-dependent AKI due to MCN was observed only when the overall myeloma response was achieved at the induction chemotherapy. Quantifying of IF in renal biopsy is an objective prognostic factor determines the possibility of achieving renal response. Early identification of reversibility predictor of dialysis-dependent AKI in patients with MCN will allow to personify induction chemotherapy.
Session topic: 14. Myeloma and other monoclonal gammopathies - Clinical
Keyword(s): Induction chemotherapy, Myeloma, Renal impairment