Abstract: PF631
Type: Poster Presentation
Presentation during EHA24: On Friday, June 14, 2019 from 17:30 - 19:00
Location: Poster area
Background
Treatment of relapsed refractory multiple myeloma (RRMM) is complex and requires evaluation of disease and patient factors to maximize efficacy and minimize toxicity. As survival has improved with therapeutic advances, maintaining quality of life has become an important aspect of multiple myeloma treatment. Results from cohort B of the ongoing phase 2 MM-014 trial (NCT01946477) have demonstrated that pomalidomide (POM) + low-dose dexamethasone (LoDEX) + daratumumab (DARA) is safe and effective in patients with RRMM after first- or second-line lenalidomide (LEN)-based treatment.
Aims
To evaluate the impact of POM+ LoDEX + DARA on health-related quality of life (HRQoL) in patients with RRMM who received this regimen after first- or second-line LEN.
Methods
Patients with RRMM and 1 to 2 prior lines of treatment, LEN-based treatment as their most recent regimen, and progressive disease during or after their last treatment line were eligible for inclusion in cohort B. In 28-day cycles, patients received POM 4 mg/day on days 1-21 + LoDEX 40 mg/day (20 mg/day if aged > 75 years) on days 1, 8, 15, and 22, and DARA 16 mg/kg IV on DEX dosing days of cycles 1 and 2, then on days 1 and 15 of cycles 3-6, and then on day 1 of cycle 7 and beyond. Thromboprophylaxis was mandatory. The primary endpoint was overall response rate. HRQoL, an exploratory endpoint for cohort B, was assessed via EQ-5D.
Results
As of 15 October 2018, 108 patients were evaluable for HRQoL. Baseline characteristics were similar to those of the ITT population (N = 112). EQ-5D completion rates for each cycle (1-6) were ≥ 88%. Through 6 treatment cycles, mean change from baseline in the EQ-5D index and VAS health score was stable. At cycle 6, minimum clinically important improvement in the EQ-5D index (≥ 0.1) and VAS health score (≥ 6) was achieved by 28.8% and 39.0% of patients, respectively. EQ-5D index values were stable; however, a trend toward improvement was observed in usual activities, pain/discomfort, and anxiety/depression (Figure).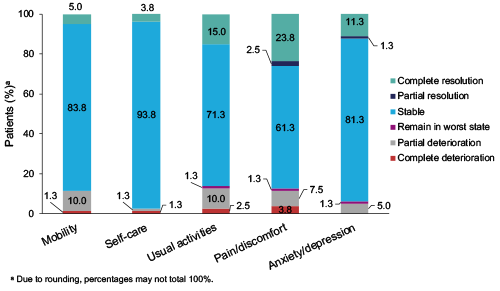 Conclusion
In patients with RRMM who received POM + LoDEX + DARA after first- or -second-line LEN based treatment, HRQoL was maintained or trended toward improvement, despite the combination of 3 drugs with distinct toxicity profiles. In context with the previously reported safety and efficacy data from cohort B of MM-014, the results of this HRQoL analysis further support the earlier use of POM-based treatment in RRMM immediately following treatment with LEN.
Session topic: 14. Myeloma and other monoclonal gammopathies - Clinical
Keyword(s): Multiple myeloma, Quality of life