Abstract: PF616
Type: Poster Presentation
Presentation during EHA24: On Friday, June 14, 2019 from 17:30 - 19:00
Location: Poster area
Background
Previous interim results from a large observational study (NCT03091127) describing the usage of carfilzomib (CFZ)-based regimens in patients (pts) with relapsed multiple myeloma (MM) showed that pts who received KRd, are younger and receive CFZ in earlier lines than pts treated with CFZ and dexamethasone alone.
Aims
To further characterize the KRd pt population, describe CFZ use and benefit-risk profile in this real-world setting.
Methods
The study recruited adult pts who received ≥1 prior line of therapy and ≥1 CFZ dose in routine care. Data collected were as described in HemaSphere 2018;2(S1):962 (PB2153).
Results
In a planned interim analysis, of 293 pts enrolled from 14 Mar 2017 and 22 Oct 2018 across 10 participating countries in EU and Israel, 178 (60.7%) pts received KRd. Median follow-up time of KRd pts was 8.5 months (mos). At KRd initiation, median age was 64 years and 9.6% were ≥75 years. Nearly all (97.8%) pts had an ECOG status 0-2 (Table 1). Hypertension (HT, 28.7%), diabetes (12.4%), cardiac disorder (10.1%), and renal disorder (4.5%) were reported in medical history. KRd pts had a median (range) of 1 prior line of therapy (1, 8). Median time since last prior treatment discontinuation was 16.9, 4.6, and 1.1 mos for pts with 1, 2, or ≥3 prior lines, respectively. Over half (63%) of KRd pts had a previous hematopoietic stem cell transplant (HSCT). Among patients at 1st relapse, nearly all (90%) received frontline bortezomib and 44% an IMiD of which 74% were exposed to thalidomide and 37% to lenalidomide (LEN). Among 142 evaluable pts, complete response or better (CR+), or very good partial response or better (VGPR+) was achieved by 22% and 61% of pts, respectively. The best overall response rate (ORR) was obtained within a median time of 3.6 mos and was high irrespective of the number of prior lines of therapy (Table 2). More patients achieved CR+ in earlier lines (Table 2). Nearly all (97%) pts had a planned KRd dosing schedule per EU label (twice weekly CFZ 20/27 mg/m2) and pts received on average 95% of the total expected dose. Out of 175 pts starting a twice-weekly schedule, 9.0% switched to once-weekly. Among 98 pts assessed for frailty at diagnosis, 32% were intermediate (int) or frail. Median age was similar between frail/int and fit pts (65 vs 64 at KRd initiation). The average % expected dose received by both frail/int and fit pts was high: 97% vs 96%, respectively. For all pts receiving KRd, the Kaplan-Meier median estimate of treatment duration was 16.6 mos (95% confidence interval: 11.1, 19.8). Among 74 pts discontinuing CFZ, the main reasons were disease progression/refractoriness (25.7%), desired level of response reached (20.3%), or an adverse event (AE, 17.6%). Salvage HSCT was planned for 29.7% of pts discontinuing CFZ and LEN. One-third (34.3%) of KRd pts reported AEs of grade 3 and above (Gr3+), including HT (3.4%) and cardiac failure (0.6%) and 5 fatal events occurred. Blood cell disorders (12.4%) such as anemia and neutropenia, and infections (11.2%) were the most frequent type of events reported.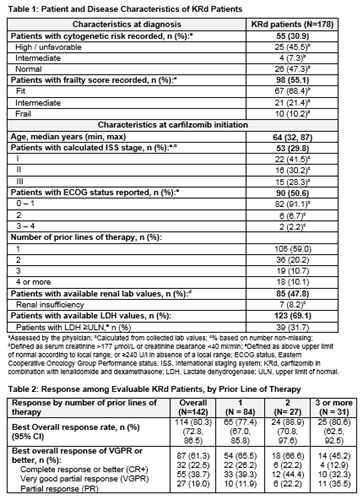 Conclusion
Patients receiving KRd in real-world were consistent with those in the KRd arm of the pivotal ASPIRE trial in terms of age and prior lines of therapy. Additionally, KRd is shown to be used in practice in frail patients. Importantly, in this analysis, CFZ was appropriately prescribed per EU label and could be maintained for long durations leading to high ORRs and deep responses.
Session topic: 14. Myeloma and other monoclonal gammopathies - Clinical
Keyword(s): Clinical outcome, Epidemiology, Multiple myeloma, Relapse