Abstract: PF615
Type: Poster Presentation
Presentation during EHA24: On Friday, June 14, 2019 from 17:30 - 19:00
Location: Poster area
Background

Identifying which multiple myeloma (MM) patient could benefit from each therapy, not only based on efficacy, but also related to comorbidity, safety and treatment features such as convenience and adherence, while maintaining quality of life, is needed. Currently in Spain, QoL is not usually evaluated in clinical practice during the disease monitoring. Physician´s treatment decisions should be evaluated individually, considering both patient´s and disease characteristics.
Aims

To evaluate the quality of life of the MM patient with symptomatic relapse and/or refractory disease using the EORTC QLQ-C30 and EORTC QLQ-MY20 questionnaires.
Methods

CharisMMa is an observational, cross-sectional, multicentre study, involving 30 public hospitals around Spain, which include MM patients that require treatment at any relapse of the disease. At study visit and under treatment, patients were asked to rate their own HRQoL using the European Organisation for Research and Treatment of Cancer (EORTC) Quality of Life Questionnaire–Core 30 module (QLQ-C30)5 and myeloma-specific module (QLQ-MY20)6.  For QLQ-C30, high scores for global health status and the functional scales indicate better quality of life and functioning. In contrast, high scores for symptoms and financial difficulties indicate greater problems. In the case of MY20, high scores for body image and future perspectives indicate a better outlook whereas high scores for disease symptoms and side effects indicated greater problems. These are the results of an interim analysis conducted in July 2018 when 169 patients were included. On average, information was collected 2.15 (SD: 1.76) months after the last relapse [median of previous treatment lines 2.0 (1.0, 3.0)]. Patient´s characteristics were presented previously7.
Results

The mean global score reported for the QLQ-C30 was 50.9 (SD:23.0), with the functional role and the cognitive functioning sub-scores presenting the lowest and the highest punctuations, 59.6 (34.9) and 75.3 (26.7), respectively. Regarding symptomatic items, fatigue [47.1 (27.6)] and pain [40.8 (31.5)] seem to represent a meaningful burden for patients while nausea and vomiting [8.8 (19.5)], diarrhoea [16.2 (26.4)] and economic problems [15.4 (25.8)] appear to be less important. With respect to MY20, side effects [25.4 (15.9)] and disease symptoms [32.1 (22.3)] indicate high problems while body image and future perspectives show better scores, 74.0 (35.3) and 57.8 (26.5) respectively, (Figure 1).
When we analysed the data according to patient's characteristics we found that those patients with high cytogenetic risk present a significant lower QLQ-C30 global score [22.5 (22.2)] compared with those with medium [55.1 (16.9)] and standard risk [52.1 (17.2)]; p=0.0013. Additionally, the number of previous treatment lines seems to be negatively associated with score [1 previous line: 55.6 (20.1), 2 previous lines: 48.1 (25.5), ≥3 previous lines: 45.4 (23.8); p=0.057]. Further analyses are needed to identify if cytogenetic risk could be associated with higher rates of relapse and, therefore, with previous treatment lines. The rest of the factors do not appear to have an impact on HRQoL.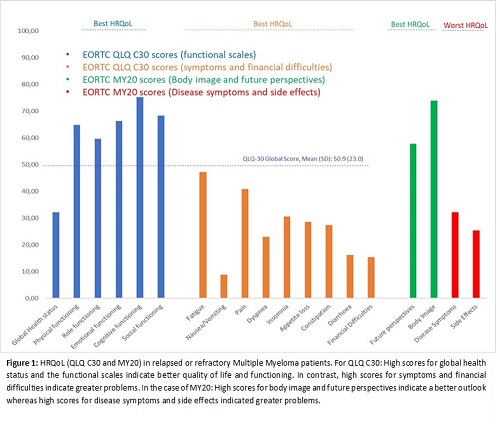 Conclusion

At relapse, patients with MM have an important symptomatic burden, especially pain and fatigue, that could impair their quality of life. Several treatment lines and high cytogenetic risk seem to be factors related with a poorer HRQoL and their assessment could play an important role for selecting an individualized therapeutic approach.
Session topic: 14. Myeloma and other monoclonal gammopathies - Clinical
Keyword(s): Multiple myeloma, Quality of life