Abstract: PF601
Type: Poster Presentation
Presentation during EHA24: On Friday, June 14, 2019 from 17:30 - 19:00
Location: Poster area
Background
Recent therapeutic advances have resulted in an increased range of treatment options for NDMM/RRMM. However, there is currently no uniform, global standard-of-care treatment for MM pts. Furthermore, 40% of pts would not meet standard clinical trial eligibility criteria and outcomes in elderly/frail pts are unclear due to the limited availability of clinical trial data. Preliminary data suggest poorer outcomes in these pts, which might be explained by the use of less aggressive treatments or comorbidities/poor tolerance to therapies. A first step towards addressing these issues is understanding real-world treatment patterns and outcomes in MM by age on a global level.
Aims
INSIGHT MM (NCT02761187) is the largest global, prospective, non-interventional, observational MM study to date. Here, we evaluate treatment patterns by region and age.
Methods
Adults with NDMM or RRMM (1–3 prior therapies) are being enrolled from 15 countries in Europe (EUR), the US, Latin America (LA), and Asia, and followed prospectively for ≥5 yr. Data are being collected at baseline and every 3 mos.
Results
At data cut-off (Aug 31, 2018), 1495 NDMM and 1263 RRMM pts had been enrolled. Upon study entry, 795 (53%) NDMM and 577 (46%) RRMM pts were <66 yr, 487 (33%) and 446 (35%) were 66–75 yr, and 212 (14%) and 240 (19%) were >75 yr. Fit/intermediate/frail pts comprised 59%/34%/8% of pts. Reasons for treatment initiation in NDMM pts were consistent across age groups and were bone involvement (55%), anemia (38%), renal insufficiency (11%), and hypercalcemia (9%); renal insufficiency and anemia were more common in LA, while bone involvement was less common in Asia. The most common treatments in pts enrolling on INSIGHT MM by age group, overall and by region, are shown in the Table. Triplets comprise the top 3 most common regimens in NDMM pts <66 yr and 66–75 yr, and doublets emerge as a more common treatment choice in pts >75 yr. VRd is the standard frontline regimen in the US, administered in ~50% of pts ≤75 yr. In contrast, NDMM pts in EUR are most commonly treated with VTd (pts <66 yr) and VCd (pts ≥66 yr). In the US/EUR, 36/40% of NDMM pts and 65/56% of RRMM pts did not receive one of the 3 most common regimens. In RRMM pts, treatment appears more heterogeneous, and doublets are more frequently used in pts >75 yr. The most common regimen in RRMM globally is Rd; the rates in the US are ~50% of those in EUR. In EUR, proteasome inhibitor (PI)-based regimens, including triplets, are emerging as a treatment choice in all age groups. In the US, while no single triplet regimen dominates, they account for 48% of regimens in pts <75 yr, with PI-, Dara-, and Elo-based regimens becoming more common. The use of Pom in the 2nd-line setting is higher in the US vs EUR, while the use of K is similar in these regions.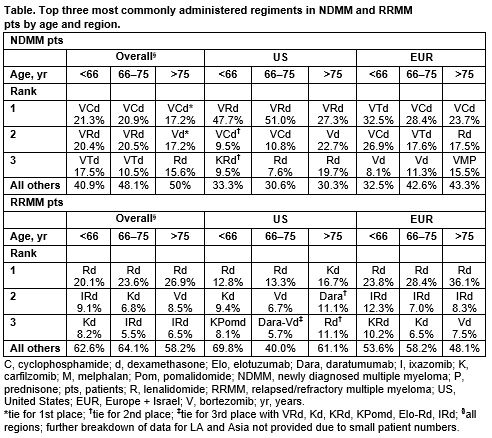 Conclusion
Analysis of pts enrolled to INSIGHT MM by age and region reveals more frequent use of triplets in NDMM vs RRMM and in younger vs older pts. The use of Rd in RRMM in EUR is double that in the US. There is also greater treatment heterogeneity in RRMM vs NDMM, potentially associated with the greater number of novel treatment options in the RRMM setting, particularly in the US. Regulatory reasons may also contribute to the greater number of regimens for RRMM, as drugs are generally first approved in this setting before moving to NDMM. The emergence of newer agents for the treatment of RRMM, such as K, I, and Dara, reflects recent approvals in this setting. Outcomes and duration of treatment by age and geography will be presented.
Session topic: 14. Myeloma and other monoclonal gammopathies - Clinical
Keyword(s): Elderly, Multiple myeloma, Treatment