Abstract: PF599
Type: Poster Presentation
Presentation during EHA24: On Friday, June 14, 2019 from 17:30 - 19:00
Location: Poster area
Background
Carfilzomib has efficacy in patients with relapsed and/or refractory myeloma who have previously received bortezomib (Mateos et al, ASH 2017 abs 1840), and is currently being investigated in frontline regimens. For patients (pts) receiving frontline carfilzomib, the efficacy of subsequent bortezomib is unclear.  
Aims
To assess the efficacy of second-line bortezomib, thalidomide and dexamethasone (VTD) as salvage after carfilzomib failure for pts in the UK NCRI CARDAMON trial.
Methods
Treatment-naïve transplant-eligible pts received 4 cycles of carfilzomib (56mg/m2), cyclophosphamide and dexamethasone (KCD) induction. Responding pts were randomised to autologous stem cell transplant (ASCT) or KCD consolidation, followed by carfilzomib maintenance for both arms. Trial recruitment is ongoing. Response was assessed by IMWG criteria. VTD was given off-trial according to local protocol. Time to treatment failure (TTTF) was defined as time from start of treatment to either progression, start of further treatment for less than partial response (PR) or death due to any cause.
Results
251 pts have been registered between 06/2015 and 01/2019, of which 43 were refractory or have relapsed. 25 pts have received VTD as 2nd line treatment: at registration median age was 54 yrs (45–68), 8 pts (32%) were ISS stage 3, (12%) had ECOG performance status >1 and 14 (56%) had high-risk cytogenetics (t(4;14), t(14;16), t(14;20), del17p, del1p or 1q gain). 7 pts (28%) had extramedullary disease at either diagnosis or relapse. 24 pts (96%) were receiving carfilzomib at time of treatment failure: 8 pts (32%) were refractory or progressed during KCD induction, 2 (8%) progressed during consolidation and 14 (56%) were receiving single agent carfilzomib maintenance. 1 pt relapsed >6 months after treatment cessation. 9 pts (36%) had received ASCT in first remission. Median TTTF after KCD was 12.9 months (range 3.3–32.5).
Pts received a median of 4 cycles of VTD treatment (range 1–11), given weekly (n=17), biweekly (n=4) or not stated (n=4). Overall response rate (ORR) was 52%; 9 pts (36%) achieved PR, 2 VGPR (8%) and 2 complete response (8%). For pts with high-risk cytogenetics (n=14) and extramedullary disease (n=7), ORRs were 50% and 29%, respectively. Treatment is ongoing in 1 pt; VTD was discontinued due to inadequate response or progressive disease (n=11), for planned ASCT (n=8), neuropathy (n=3) and death (n=2). Of 16 ASCT-naïve pts, 7 (44%) received ASCT after VTD, 5 after subsequent therapy and 4 have not received ASCT to date.
With median follow-up from start of VTD of 15.1 months (range 2.3–29.7), median TTTF and PFS were 4.6 (95% CI: 0.7– 24.9) and 12.4 months (95% CI: 0.7–25.0), respectively (Figure). 1-yr freedom from treatment failure (FFTF) and PFS rates were 43% (95% CI: 23–61) and 51% (95% CI: 30–68), respectively. 16 pts have received 3rd-line treatment after VTD: median TTTF from start of 3rd line was 4.5 months. In total, four pts have died due to infection (n=2) or myeloma (n=2); 1-yr overall survival was 92% (95% CI: 71–98).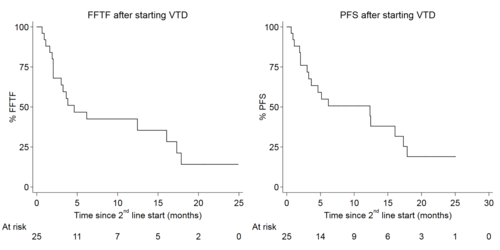 Conclusion
VTD is an active treatment for pts progressing on carfilzomib, as observed in this high-risk, IMiD-naïve pt cohort. These results provide evidence a 1st generation proteasome inhibitor (PI), when combined with IMiD, is active in 2nd generation PI failures. Wider studies are required to confirm these findings and explore optimal sequencing of PI therapy.
Session topic: 14. Myeloma and other monoclonal gammopathies - Clinical
Keyword(s): Bortezomib, Myeloma, Proteasome inhibitor, Relapse