Abstract: PF587
Type: Poster Presentation
Presentation during EHA24: On Friday, June 14, 2019 from 17:30 - 19:00
Location: Poster area
Background
The nuclear export protein Exportin 1 (XPO1) is overexpressed in a wide variety of cancers including multiple myeloma (MM) and associated with poor prognosis. Selinexor is a first-in-class Selective Inhibitor of Nuclear Export (SINE) compound that selectively binds and inactivates XPO1, therefore forces the nuclear retention and re-activation of cell cycle regulators such as p53, FOXO, IkB, and Rb. Pomalidomide/dexamethasone (Pd) achieved an overall response rate (ORR) of 31% and progression-free survival (PFS) rate of <4 months in patients (pts) refractory to prior bortezomib and lenalidomide (Richardson et al, Blood 2014). Methods to increase response rate and depth are needed. Selinexor in combination with dexamethasone (dex) has demonstrated a 26.2% ORR in pts with triple-class refractory myeloma including deep responses with very good partial response (VGPR) and 2 pts in a stringent complete response/minimal residual disease negative. It is hypothesized that the combination of SPd may improve the ORR, depth of response, and PFS.
Aims
The primary objectives of the study were to determine the maximum tolerated dose (MTD), the recommended phase 2 dose (RP2D), and to assess the safety, tolerability, and preliminary efficacy of the combination of SPd in pts with RRMM.
Methods
STOMP is amulticenter, open-label, phase 1/2b, dose escalation study with an expansion phase.Eligiblity included pts with RRMM who received ≥2 prior therapies including lenalidomide (len) and a proteasome inhibitor (PI). Oral (PO) selinexor was evaluated in 2 different dosing schedules of once-weekly (QW, 60 or 80 mg) or twice-weekly (BIW, 60 or 80 mg), with escalating doses of pomalidomide (pom)2, 3, or 4 mg PO on Days 1-21, and low dose dexamethasone (dex) 20 mg BIW or 40 mg QW. In the expansion phase, all pts were pom naïve.
Results
As of February 20th2019, 43 pts (22 male/21 female) have been enrolled. The median age is 61 years and pts received a median of 4 (range, 2 – 9) prior treatment regimens. Thirty-nine pts were immunomodulatory imide drug (IMiD) refractory (26 refractory to len, 13 pts refractory to pom and len). The phase 1 dose escalation is ongoing. Enrollment is ongoing in 2 difference schedules: selinexor 80 mg/pom 2 mg and selinexor 60 mg/pom 4 mg in combination with dex. Six dose-limiting toxicities (DLTs) were observed (see Table 1). Common hematologic SPd treatment-related adverse events (TRAE) included (all grades, Grades 3/4): neutropenia (54%, 49%), thrombocytopenia (51%, 30%), anemia (47%, 30%). Common non-hematologic TRAE were predominantly Grade 1/2 and include nausea (51%, 0%), fatigue (47%, 9%), anorexia (42%, 0%). Thirty-seven pts were evaluable for response. Among pts who were pom naïve (n=27), the ORR was 52% (5 VGPR, 9 partial response [PR]) and the median progression-free survival (PFS) was 12.2 months. Among pts refractory to len/pom (n=10) the ORR was 30% (2 PR, 1 unconfirmed PR) and the median PFS was 5.5 months.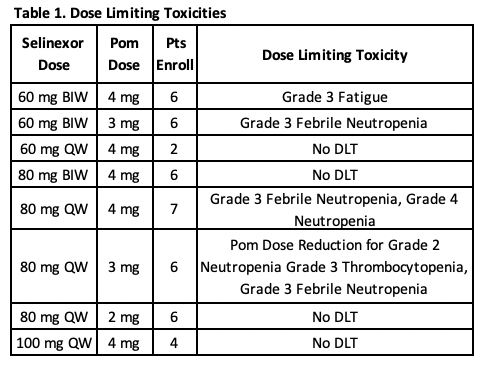 Conclusion
Once weekly selinexor can be safely combined with pom/dex. The all oral SPd combination is durable and active with a 52% ORR in pom-naïve pts with heavily pretreated MM compared to previously published data of 31% ORR for pom/dex. The median PFS on SPd of 12.2 months in pom naïve pts is significantly longer than that observed with pom/dex (<4 months). No unexpected adverse events were noted. Cytopenias were expected and known with IMiD use. Non-hematologic side effects were limited to Grade 1/2 events. The RP2D will be presented at the meeting and supports future phase 2/3 studies in RRMM.
Session topic: 14. Myeloma and other monoclonal gammopathies - Clinical
Keyword(s): Immunomodulation, Multiple myeloma, Tumor suppressor