Abstract: PF556
Type: Poster Pitch
Presentation during EHA24: On Friday, June 14, 2019 from 17:30 - 19:00
Location: Poster area
Background
The prognosis of multiple myeloma (MM) patients who are refractory to all currently available therapies, including anti-CD38 monoclonal antibodies, remains poor, indicating that there is an unmet need for novel treatment strategies. Although data on G-protein coupled receptor 5D (GPRC5D) protein expression is scarce, GPRC5D RNA levels are selectively elevated in MM cell lines and primary MM cells. This makes GPRC5D an attractive target for the novel anti-MM JNJ-7564 bispecific antibody. 
Aims
We determined GPRC5D protein expression levels on bone marrow (BM) mononuclear cells (MNCs) and MM cell lines. We also analyzed the impact of differential GPRC5D gene expression on overall survival (OS) and progression free survival (PFS) in MM patients. Furthermore, the preclinical activity of a new GPRC5DxCD3 bispecific antibody (JNJ-7564) in development for the treatment of MM was evaluated, as well as biomarkers for in vitro JNJ-7564 response.
Methods
GPRC5D protein expression was assessed by flow cytometry on BM MNCs derived from healthy donors (HD) and MM patients. GPRC5D gene expression levels were analyzed in purified CD138+ MM cells derived from patients who participated in 5 large randomized clinical trials (HOVON65, MRC-IX, TT2, TT3 and APEX). MM cell lysis by JNJ-7564 (0.00064-4µg/ml; 48 hour-incubation) was evaluated in MM cell lines and whole BM samples from newly diagnosed (ND) and relapsed/refractory (RR) MM patients. At baseline, the MNCs were characterized for the composition of T-cell subsets. T-cell activation and degranulation were measured by flow cytometry based on expression of CD25 and CD107a, respectively.
Results
GPRC5D protein expression was significantly higher on MM cells compared to other BM cells, including HD plasma cells (fig 1A). GPRC5D protein expression was positively correlated with BCMA expression (r=0.44; P=0.02), but was independent of tumor load, and CD38 or PD-L1 expression on MM cells. Gene expression levels of GPRC5D were highly variable in MM, and independent of age and ISS stage, but were significantly higher in patients with t(4;14) or gain 1q. There was no association with OS or PFS in the 5 clinical trials (n=1421). JNJ-7564 effectively killed GPRC5D+ MM cell lines (MM1.S, UM9 (fig 1B) and RPMI8226) in a dose-dependent manner using HD peripheral blood MNCs as effector cells. Co-incubation with patient-derived BM stromal cells resulted in a modest impairment of killing capacity in MM1.S and RPMI8226 cells. In MM patient samples (n=20), the mean lysis of MM cells with 4.0µg/mL JNJ-7564 was 62% (range: -8-97%; fig 1C), while NK-cell and T-cell frequencies were not affected. JNJ-7564 was also effective in samples from extensively pretreated daratumumab (DARA)-refractory patients (DRMM; n=6; median of 6 prior lines; mean lysis with 4.0 µg/mL: 70%; range: 44-97%). Maximal lysis of primary MM cells was not associated with the level of GPRC5D expression on MM cells, effector:target ratio, or frequency of regulatory T-cells. JNJ-7564-mediated MM cell lysis was associated with activation and degranulation of CD4+ and CD8+ T-cells (fig 1D).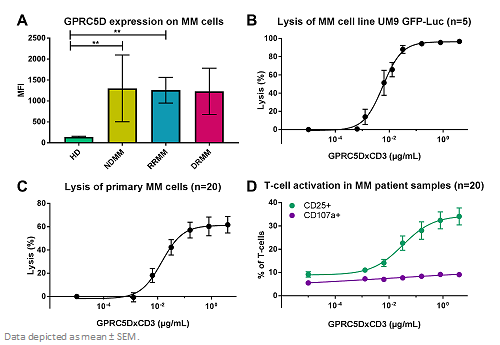 Conclusion
GPRC5D is highly and selectively expressed on MM cells, which makes it an attractive therapeutic target. The GPRC5DxCD3 bispecific antibody, JNJ-7564, effectively lysed GPRC5D+ MM cell lines and primary MM cells in samples derived from both newly diagnosed and heavily pre-treated patients, including DARA-refractory patients. Altogether, this strengthens the preclinical rationale for an ongoing phase 1 study with JNJ-7564 in RRMM.
Session topic: 13. Myeloma and other monoclonal gammopathies - Biology & Translational Research
Keyword(s): Antibody, Immunotherapy, Multiple myeloma, T cell activation