Abstract: PF532
Type: Poster Pitch
Presentation during EHA24: On Friday, June 14, 2019 from 17:30 - 19:00
Location: Poster area
Background
MDS is a heterogeneous group of myeloid neoplasms caused by genetic and epigenetic alterations. While the major driver mutations in MDS have been fully investigated, the role of epigenetic alterations, particularly those of DNA methylation, has less intensively been studied.
Aims
To clarify the role of epigenetic aberrations in the pathogenesis of MDS.
Methods
We analyzed DNA methylation status of bone marrow mononuclear cells from 320 cases with MDS-SLD (n=7), MDS-RS (n=63), MDS-MLD (n=51), MDS-EB (n=186), MDS-U (n=1), and MDS with isolated del(5q) (n=12), using Illumina 450K methylation array. Mutations in major driver genes (51 genes) were also interrogated using targeted-capture sequencing.
Results
Using unsupervised consensus clustering, we identified 3 subgroups showing unique DNA methylation profiles. Subsequently, we assessed differentially methylated positions (DMPs). Differentially hypermethylated positions (hyper-DMPs) were significantly more enriched in Group 3 (n=82) (P<0.001), while differentially hypomethylated positions (hypo-DMPs) were more prominent in Group 1 (n=125). Group 1 was significantly enriched for SF3B1 (46%) mutations (q<0.01), while Group 2 (n=131) was characterized by the enrichment of ASXL1 (38%), RUNX1 (30%), TP53 (26%), STAG2 (15%), and SETBP1 (6.7%) mutations (q<0.01). In contrast, Group 3 (n=64) was significantly enriched for TET2 (67%) and IDH1/2 (12% and 15%, respectively) mutations (q<0.01). Therefore, TET2 and IDH1/2 mutations were significantly associated with hyper-DMPs, which involved 1,891 and 8,330 promotor sites, respectively. Conspicuously, among these hypermethylated promoter sites, >1,616 were commonly hypermethylated, strongly supporting the common impact of TET2 and IDH1/2 mutations on deregulated DNA methylation. Clinically, patients in Group 3 showed significantly shorter overall survival (OS) compared to Group 1 (HR: 1.94, 95%CI: 1.11-3.4, P<0.05) and OS was even worse in Group 2 patients (vs. Group 1: HR: 5.18, 95%CI: 3.21-8.36, P<0.001).
Strong correlations between epigenetic and genetic profiles were further interrogated using a Bayesian statistical model. The original 3 clusters were re-classified into 5 discrete clusters; patients in Group 1 and 3 largely clustered into Cluster A and E, respectively, while Group 2 was further subclassified into clusters B, C, and D. Clusters B and D were characterized by a conspicuous enrichment of DNMT3A (88%) and TP53 (69%) mutations (q<0.001), while Cluster C was characterized by higher frequency of ASXL1 (71%), RUNX1 (54%), STAG2 (27%), and EZH2 (21%) mutations (q<0.001). In contrast to such significant associations between epigenetic regulators and unique methylation clusters, splice factor mutations tended to be clustered into multiple clusters, depending on type of co-occurring mutations. For example, combined SF3B1 and TET2 mutations (n=20) were enriched in Cluster A, where highly associated with MDS-RS, while patients with SF3B1 and RUNX1 mutations (n=9) were more grouped in Cluster C, mostly showing MDS-EB phenotype (89%). Similarly, SRSF2 mutations with RUNX1 and/or ASXL1 mutations (n=36) were enriched in Cluster C, largely associated with MDS-EB phenotype (80%), while those with TET2 or IDH1/2 (n=39) were mainly grouped into Cluster E, many of which showed MDS-EB phenotype (74%). These findings highlight differential roles of mutated epigenetic regulators and splicing factors in abnormal DNA methylation.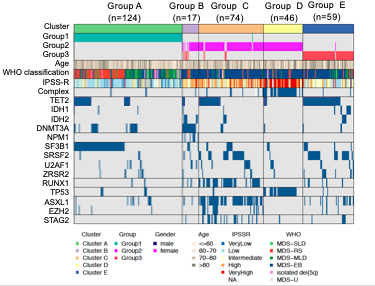 Conclusion
In conclusion, we elucidated the collaborative impact of DNA methylation profiles and mutation status on heterogeneous pathogenesis and prognosis in MDS.
Session topic: 9. Myelodysplastic syndromes - Biology & Translational Research
Keyword(s): DNA methylation, Myelodysplasia