Abstract: PF505
Type: Poster Presentation
Presentation during EHA24: On Friday, June 14, 2019 from 17:30 - 19:00
Location: Poster area
Background
Ferroportin (FPN), the only known iron transporter in mammals, is mainly expressed in tissues of iron absorption (duodenum), recycling and storage (liver and mononuclear phagocyte system). Through its action on FPN, hepcidin controls plasma iron levels. VIT-2763 is the first oral FPN inhibitor that has been shown to lower plasma iron levels in preclinical pharmacology studies. In addition, VIT-2763 ameliorated ineffective erythropoiesis in a thalassemia disease model.
Aims
A Phase I, first-in-human, double–blind, randomized, placebo-controlled study was performed to assess the safety, tolerability, pharmacokinetics and pharmacodynamics of single- and multiple-ascending doses (SAD and MAD) of VIT-2763 in healthy male or female subjects. EudraCT no. 2017-003395-31.
Methods
In Part A (SAD), subjects received a single oral dose of VIT-2763 in five cohorts: 5/15/60/120/240 mg. Part B (MAD) involved four VIT-2763 dose cohorts: oral VIT-2763 60/120 mg once daily (QD) or 60/120 mg twice daily (BID) for 7 days. In both parts, subjects were randomized 3:1 into each cohort to receive VIT-2763 or placebo. Safety and tolerability (primary endpoint) were assessed throughout. Serial blood samples were collected for analysis of PK and PD (including but not limited to serum iron and hepcidin levels). PK parameters were determined by non-compartmental analysis.
Results
In Parts A and B, 38 (29 active, 9 placebo) and 34 subjects (26 active, 8 placebo) were enrolled respectively.
Treatment with single and multiple oral doses was well tolerated. In Part A, 32 treatment-emergent adverse events (TEAEs), all of which were mild, occurred in 53% of subjects; in Part B, 96 TEAEs (all mild/moderate) occurred in 85% of subjects. All TEAEs were transient and self-limiting. There were no findings of clinical relevance with respect to vital signs, 12-lead ECG, telemetry or physical examination. There were no serious or severe TEAEs nor discontinuations due to TEAEs following single or multiple dosing.
The initial oral absorption of VIT-2763 was relatively fast; most subjects had detectable levels 15–30 min post dose and median Tmax was 0.5–3 hours. A second peak in the concentration─time profile occurred 3–4 hours post dose. The exposure over the dose range of 5─240 mg was slightly more than dose proportional for Cmax, AUC0­last and AUC0-inf. Following multiple oral dosing up to 120 mg BID for 7 days there was no apparent change in absorption and accumulation was minimal. The geometric mean elimination t½ was 1.8–5.3 hours following single dosing, and 2.1─3.8 hours on Day 1 and 2.6–5.3 hours on Day 7, following repeated dosing.
Single and multiple doses of VIT-2763 ≥60 mg lowered serum iron, which remained below baseline values for up to 24 hours post-dose, following BID dosing in the MAD phase (see Figure). There was also a temporary increase in mean serum hepcidin levels. This iron-lowering pharmacodynamic effect is consistent with observations in preclinical models. No dose-related effects were observed with respect to serum ferritin, transferrin, erythropoietin or soluble transferrin receptor levels on Day 1 or 7.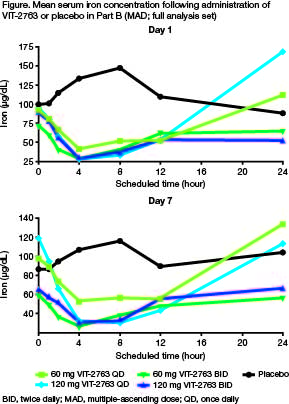 Conclusion
VIT-2763 administered at single oral doses up to 240 mg, or multiple oral doses up to 120 mg BID was safe and well tolerated and achieved rapid and prominent decreases in circulating iron levels in healthy subjects. This iron-lowering pharmacodynamic effect is consistent with observations in preclinical models. Results of this study support the initiation of a proof-of concept study of VIT-2763 in patients with β-thalassemia and documented iron overload.
Session topic: 29. Iron metabolism, deficiency and overload
Keyword(s): Erythropoieisis, Iron overload, Pharmacokinetic, Safety