Abstract: PF482
Type: Poster Presentation
Presentation during EHA24: On Friday, June 14, 2019 from 17:30 - 19:00
Location: Poster area
Background
There is no standard treatment for R/RMCL patients who have failed first line treatment. With an overall response rate (ORR) of 78 %, and a median PFS of 15,3 months ibrutinib appears as one of the best treatment in this setting (Rules et al, BJH, 2017). At the ASH 2016 meeting we have presented the data of 49 R/R MCL patients treated by the RiVBD combination (Rituximab-Bendamustine-Bortezomib-Dexametasone) previously described in first line (Gressin et al, Haematologica, 2018). Here we present our updated data, with a larger cohort and a longer follow up.
Aims
To determine the efficacy and safety of the RiBVD regimen in the salvage therapy of R/R MCL patients.
Methods
We proposed to all LYSA partner centers a survey to retrospectively evaluate the efficacy of the RiBVD regimen in R/R MCL patients in second line or more than 2 lines of treatment. The RiBVD regimen comprises: Rituximab 375mg/sqm IV D1, Bendamustine 90mg/sqm IV D1 and D2, bortezomib 1,3mg/sqm SC D1, D4, D8, D11 and dexamethasone 40 mg IV D2. The response was evaluated by the Cheson criteria 2007 with or without PET scan. ORR, CR, and survival (PFS, DOR and OS) were calculated.
Results
67 patients from 19 centers were recruited between June 2016 and January 2019. Nineteen patients (28%) were diagnosed with a blastoid variante. Thirty-one patients were refractory (46%) to their previous line, 91% (61/67) had received at diagnosis a regimen including high dose cytarabine. The median age at D1 of RiBVD was 69 years (40-91y), 28% (n=19) were young (<65y) and 72% (n=48) older patients (> 65y).
Treatment history: Thirty-three patients (49%) received RiBVD in second line, 16 in third line and 18 after the third line. In second line, 28/33 (85%) patients had received previously high dose cytarabine,76 % (25/28) were refractory and 54% were old patients. Twelve patients received RiBVD after a failure of an ibrutinib treatment.
Toxicities: 27 patients (40%) have presented a grade III/IV hematological toxicities with 9 septic shock but no death related toxicities. Three patients died in CR (1 patient developped MDS and 2 for public road accident)
Efficacy: The ORR of the 67 patients was 71% (48/67), 32 were in CR (48%) and 16 in PR. For patients treated in 2nd line, the ORR was 82% (27/33) with 20 CR (60%) and 7 PR. After the second line ORR was 62% (21/34) with 11 CR (52%). The ORR of relapsed pts were 83% (30/36 with 22 CR and 8 PR) and refractory pts were 58% (18/31 with 11 CR and 7 PR). For the 19 blastoid variante the ORR and CR were respectively 58% and 36,8%. Regarding RiBVD after ibrutinib, the ORR was 66% (8/12 with 3 CR and 5 PR) and the DOR was 17 months. With a 21.2 months median follow-up, the median OS of all patients was 32 months, the median PFS was 10,1 months and the DOR was 18 months. The main results are summarized in Table 1.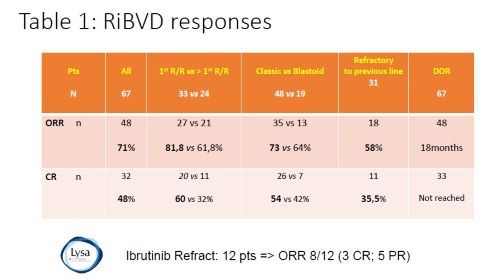 Conclusion
The RiBVD regimen appears as one of the best option as salvage therapy of R/R MCL after a cytarabine based regimen either after ibrutinib resistance. The major prediction of responses are the first relapse and the classic form.
Session topic: 18. Indolent and mantle-cell non-Hodgkin lymphoma - Clinical
Keyword(s): Ibrutinib, Mantle cell lymphoma, Refractory