Abstract: PF474
Type: Poster Presentation
Presentation during EHA24: On Friday, June 14, 2019 from 17:30 - 19:00
Location: Poster area
Background
The association of brentuximab vedotin (Bv) with bendamustine (B) has recently been reported to be active (ORR 71% CRR 31%) as salvage treatment in multiple relapsed or refractory Hodgkin lymphoma and anaplastic lymphoma. Interestingly, in primary refractory disease and first relapse the association BVB has shown a very high CR rate (73%) and manageable toxicity profile with a substantial fraction of patients proceeding to autologous stem cell transplant (auto-SCT) after just 2 cycles of therapy (75%).
Aims
This retrospective multicentre study aimed to evaluate the activity and toxicity of BvB association in a cohort of multiple relapsed or refractory Hodgkin lymphoma (RR-HL) patients.
Methods
Medical records of 47 RR-HL patients (pts) treated with BvB in second relapse or beyond between 2015 and 2018 in eight Italian centres were retrospectively reviewed. 
Results
Thirty-five pts (75%) were resistant to first-line treatment, 39 (89%) had a clinical response to the former treatment lasting less than 12 months, 12 (25%) had relapsed after auto-SCT and 17 (36%) had previously received Bv as monotherapy. The median number of previous treatments was 2 (1-3). Bv was given at 1,8 mg/Kg on day 1 and bendamustine at 90 mg/m2 on day 1 and 2 every 4 weeks. All patients also received i.v steroids as premedication prior to starting bendamustine infusion.  The median number of BvB cycles was 4 (2-7), and all 47 patients were evaluable for efficacy. The CR and OR rates were 50% and 73%, respectively. Interestingly, the ORR in patients who had previously received an auto-SCT was  83% (CR 50%), and in those failing after Bv was 76% (CR 35%). Twenty-four (52%) pts in major clinical response (17 CR  7 PR) and two with stable disease, received a SCT procedure (20 autologous; 4 allogeneic; 2 tandem autologous-allogeneic); two pts in PR are scheduled to receive an auto-SCT. Nineteen (49%) responding pts continued treatment with Bv as monotherapy following completion of BvB combination therapy (8 pts) or after ASCT (11 pts). After a median follow-up of 15 months (5-47) the median PFS was 18 months (95%CI: 23-29), and the median OS was not reached with 72% of patients alive at 2 years. For patients who received BvB alone, median PFS was 7 months (3-11), compared to 33 months (15–51) for patients who received also a SCT (p = 0,001) (Fig. 1); the corresponding features for OS were 12 months (4-18) vs not reached (p=0.008). The intended six cycles of treatment were completed by 58% of pts. Reasons for premature therapy discontinuation included: toxicity (5), patient refusal (4), switch to SCT procedure (10). Twenty-five (53%) pts experienced severe (G >3) toxicity. The main toxicities were neutropenia (23%), gastrointestinal (17%), neuropathies (8%) and Infection (4%). None of the patients died of treatment-related toxicity.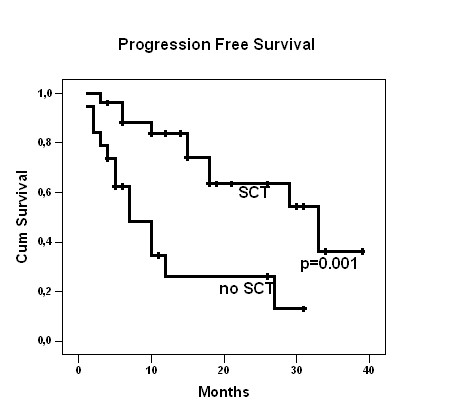 Conclusion
This analysis based on a real-life series confirms that BvB is a very active regimen in R/R HL, irrespective of previous exposure to Bv or auto-SCT. Seventy-six percent of responding patients proceeded to a SCT procedure. Toxicity is manageable, though relatively substantial, and requires a careful monitoring. These results suggest that BvB is an effective third-line rescue and bridge-to-transplant regimen in RR Hodgkin lymphoma patients.
.
Session topic: 17. Hodgkin lymphoma - Clinical
Keyword(s): Bendamustine, CD30, Hodgkin's lymphoma, Relapsed lymphoma