Abstract: PF468
Type: Poster Presentation
Presentation during EHA24: On Friday, June 14, 2019 from 17:30 - 19:00
Location: Poster area
Background

The early 1970s marked a seminal milestone in the treatment of classic Hodgkin lymphoma (cHL) with the introduction of MOPP. Over the last decades, major improvements included the widespread adaptation of ABVD over MOPP in the early 1990s, the introduction of BEACOPP in the late 1990s, and more recently, interim PET-guided therapy. At present, it remains largely unknown how these advances impacted population-level survival of cHL patients from both a historical and contemporary perspective.
Aims

The aim of this nationwide population-based study was to assess trends in primary therapy and survival among cHL patients diagnosed in the Netherlands during a 28-year period.
Methods

We selected all adult (≥18 years) cHL patients diagnosed between 1989-2016 from the nationwide Netherlands Cancer Registry (NCR), with follow-up for survival until January 2018. Data on primary treatment—i.e. no antineoplastic therapy, radiotherapy (RT) only, chemotherapy (CT) plus RT, and CT only—were available in the NCR. Detailed information on the therapeutic regimen was registered in the NCR for patients diagnosed from 2014. We calculated relative survival (RS) and excess mortality ratios (EMRs) to estimate disease-specific survival. All analyses were performed separately for disease stages I-II (n=5,708; median age 36 years) and III-IV (n=3,659; median age 44 years), and stratified by period (1989-1999, 2000-2009, and 2010-2016) and age (18-29, 30-39, 40-59, 60-69, and ≥70 years). The periods represent the ABVD-era, the era in which BEACOPP was introduced, and the era where PET-guided treatment was gradually introduced, respectively.
Results

RT alone was virtually not applied as from 2000 among patients up to age 70 with stage I-II disease, following the wider application of CT+RT (Fig 1A). It also declined for patients age ≥70; however, it was still applied in 11% of patients during 2010-2016. For patients with stage III-IV disease, CT without RT was the preferred treatment for all age groups, albeit its application only increased over time for patients up to age 60 (Fig 1A). Throughout the entire study period, around 15-20% of patients age ≥70 across both stage groups received no antineoplastic therapy (Fig 1A). Detailed data from patients diagnosed from 2014 showed that the majority of CT-treated patients with stage I-II (91%) and III-IV disease (62%) received ABVD. As expected, BEACOPP was rarely applied among patients aged ≥60 years with stage III-IV disease (1%), as compared with 39% in patients aged 18-59 years.
Significant improvements in 5-year RS over time was confined to patients up to age 60 for both stage groups (Fig 1B). During 2010-2016, patients with stage I-II disease up to age 60 had very low excess mortality (EM) compared with the general population (Fig 1B). Overall, when adjusted for age, sex, and year of follow-up, patients with stage I-II and III-IV disease diagnosed in 2010-2016 had 38% (EMR, 0.62; P=0.001) and 36% (EMR, 0.64; P<0.001) lower EM than those diagnosed in 2000-2009, respectively.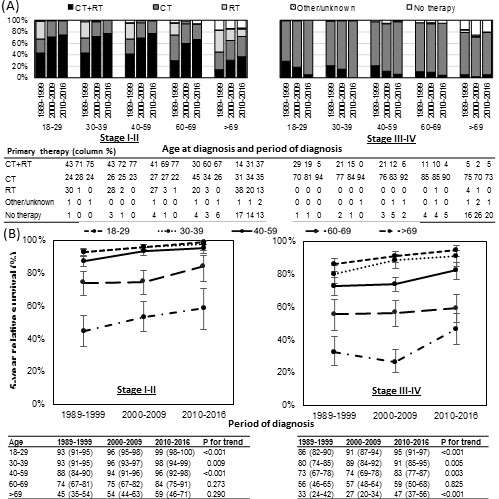 Conclusion

In summary, in this nationwide population-based study, survival in cHL improved over time for patients up to age 60. This might be accounted for by advances in therapy over time, the shift from ABVD to BEACOPP, novel drugs for relapsed/refractory patients, and improved supportive care and risk-adapted therapy. These achievements, however, do not result into benefits for patients aged ≥60 years, as these patients still experience considerable EM in contemporary clinical practice. Therefore, novel treatment strategies are urgently needed to reduce EM for elderly patients.
Session topic: 17. Hodgkin lymphoma - Clinical
Keyword(s): Epidemiology, Hodgkin's lymphoma, Population, Survival