Abstract: PF467
Type: Poster Presentation
Presentation during EHA24: On Friday, June 14, 2019 from 17:30 - 19:00
Location: Poster area
Background

Human microbiota is a complex ecosystem of trillion of symbiotic microorganisms composed of protozoa, fungi, virus and bacterial species. It has become increasingly apparent that microbiota metabolites are important orchestrators of host physiology through the control of a large range of metabolic, inflammatory, and even behavioural processes. These findings support the hypothesis that metabolites produced by the microbiota could represent an unexplored chemical space endowed with interesting biological activities.  
Aims

A promising therapeutic strategy in cancer is to eliminate cancer stem cells (CSCs) or induce their differentiation process, due to its key role in tumor initiation, progression, and recurrence. The present work is focused on the identification of new small molecules inspired on microbiota metabolites that affect cancer phenotypes based on the regulation of the cellular differentiation process.
Methods

Structurally diverse compounds have been designed bearing privileged scaffolds (PrSc) present in microbiota metabolites. The synthesized compounds were assessed for their potential in phenotypes of CSCs. First, we evaluated the cytotoxic activity in tumor (MCF-7) and fibroblast (IMR90) cell lines in an MTT viability assay. Then, the sphere-forming growth of CSCs was determined by confocal laser or phase contrast microscopy, in the presence of a concentration at which the compounds are not toxic. Active compounds were tested against acute myeloid leukemia (AML) and healthy donors bone marrow blast cells. CD34+ cells were isolated and plated, and total colonies were scored after 14 days. The cells of these colonies were also analysed by flow cytometry using CD34, CD44, CD71, CD45, and Annexin V antibodies.
Results

Using different multicomponent organocatalytic reactions, a series of new compounds were obtained in a straightforward and stereocontrolled manner. Among them, compounds containing three different scaffolds were active in the phenotypic assays of CSCs and were devoid of toxicity in fibroblasts. Selected active compounds UCM13369 and UCM13218 significantly suppressed the formation of colonies derived from AML CD34+ cells and decreased their viability in the µM range (IC50 < 5 µM). The compounds were less active in healthy CD34+ cells (Figure 1a) and not toxic in fibroblasts (IC50 > 10 µM). Furthermore, both compounds increased the apoptosis in CD71+ cells (Figure 1b), and UCM13369 was also able to reduce their population (Figure 1b).
Altogether, the new compounds induce CD34+ cell death and/or differentiation in AML.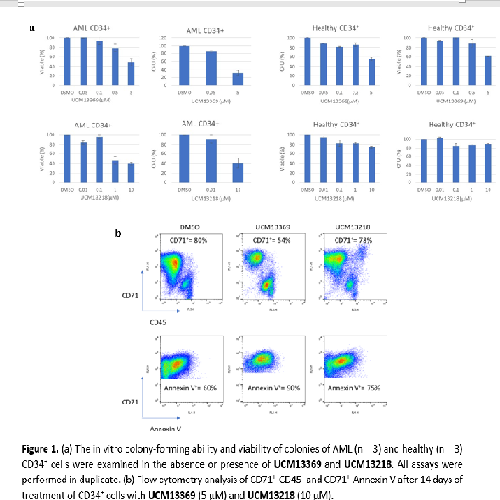 Conclusion

In this work, we present the biological evaluation of new synthesized compounds that contain different scaffolds inspired on metabolites of the human microbiota. Compounds UCM13218 and UCM13369 display interesting targeting of stem cells, especially CSCs, and specifically AML blasts. Their interest in the regulation of CSC differentiation could lead to novel therapeutic strategies to achieve tumor regression.
Session topic: 23. Hematopoiesis, stem cells and microenvironment
Keyword(s): Stem cell