Abstract: PF406
Type: Poster Presentation
Presentation during EHA24: On Friday, June 14, 2019 from 17:30 - 19:00
Location: Poster area
Background

Chronic myeloid leukemia (CML) treatment was revolutionized by the advent of tyrosine kinase inhibitors (TKIs) in 2001. Ever since, studies have consistently shown improved survival rates. However, elderly patients with CML are often excluded from, or underrepresented in phase 3 trials that lead to drug approval. Thus, it remains largely ill-defined how the general population of elderly CML patients benefited from the advances brought about by TKIs.
Aims

The aim of this comprehensive nationwide population-based study was to assess trends in primary treatment and survival among elderly patients with CML in the Netherlands during a 28-year period.
Methods

We selected all CML patients aged ≥70 years diagnosed between 1989-2016 from the nationwide Netherlands Cancer Registry (NCR), with survival follow-up through January 1, 2018. Data on first-line anti-CML treatment—defined as chemotherapy, immunotherapy, and TKI—were available in the NCR. Data on the use of TKI and the exact therapeutic regimen were registered in the NCR for patients diagnosed from 2007 and 2014, respectively. Patients were divided into three calendar periods (1989-2000, 2001-2008, and 2009-2016) and four age groups (70-74, 74-79, 80-84 and ≥85 years, unless otherwise stated. The first, second, and third period represent the pre-TKI era, the era in which imatinib was introduced into daily practice, and the era in which subsequent generations of TKI were introduced, respectively. We calculated relative survival (RS) and excess mortality ratios (EMRs) up to five years after diagnosis to estimate disease-specific survival.
Results

A total of 1,459 newly diagnosed CML patients were included (median age, 77 years; age range, 70-97 years; 53% males; 16% prior malignancy).
The application of anti-CML therapy across the four age groups increased with each calendar period, following a decreased proportion of patients who received no therapy (Fig A). Data of patients diagnosed as of 2007 showed that 91%, 83%, 76%, and 67% of the patients across the four age groups received TKI, respectively (Fig A). Detailed data of 151 patients diagnosed during 2014-2016 revealed that 94% of the patients received TKI (imatinib, 67%; nilotinib, 15%; and dasatinib, 12%). The remaining patients received hydroxyurea (3%) or no therapy (3%).
Fig B shows that 1-, 3-, and 5-year RS drastically improved over time in all age groups. However, the improvement among patients aged ≥75 years lagged behind those aged 70-74 years. Encouragingly, though, the largest improvement among patients aged ≥75 years took place between 2001-2008 and 2009-2016. Overall, when adjusted for period, sex, age, prior malignancy, and year of follow-up, patients diagnosed in 2009-2016 had 63% lower excess mortality, as compared with patients diagnosed in 2001-2008 (EMR, 0.37; P<0.001). After additional adjustment for therapy, the effect of period lost statistical significance (P=0.201). This suggests that changes in the application of primary therapy contributed to the improved survival during 2009-2016. In addition, older age and male sex were predictors of poor prognosis.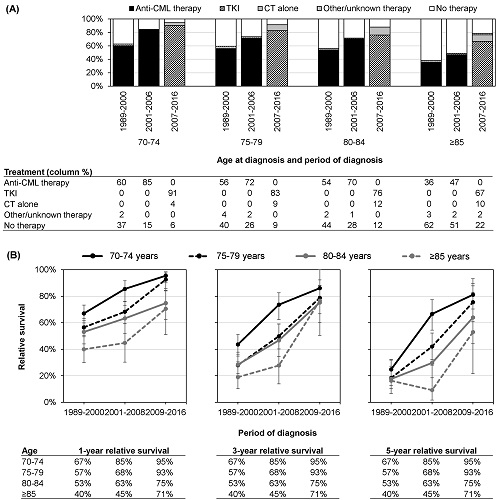 Conclusion

In summary, in this nationwide population-based study, RS increased significantly over time among elderly CML patients across all age groups. This is likely the result of the introduction and increased application of TKIs since 2001. Nevertheless, elderly patients with CML continue to experience excess mortality (EM) in a contemporary era with well-established management with TKIs. Forthcoming studies should focus or target on further reducing EM in this elderly population.
Session topic: 8. Chronic myeloid leukemia - Clinical
Keyword(s): Chronic myeloid leukemia, Survival