Abstract: PF403
Type: Poster Presentation
Presentation during EHA24: On Friday, June 14, 2019 from 17:30 - 19:00
Location: Poster area
Background

In the last few years, several clinical discontinuation trials have demonstrated that 40-60% of chronic phase CML patients (CP-CML) who have achieved a stable deep molecular response, can stop therapy without relapsing. However, there is no consensus as to whether or not the depth of the molecular response is a prognostic factor for treatment-free remission (TFR), which is reflected in the discrepancy between the various guidelines and opinions of experts in the field regarding the optimal molecular response required, MR4.0 or MR4.5, for a TFR attempt.
Aims
In this work, we hypothesize that a discrepancy in the classification of the level of molecular response between laboratories involved in clinical trials could introduce a bias in the evaluation of the prognostic impact of treatment-free remission (TFR).
Methods

In an attempt to clarify this issue, we stratified by molecular response a cohort of 1087 CML patients and compared our results with those of 200 patients enrolled in the EURO-SKI trial.
Results

We found that none of the patients classified as MR4.0 had detectable disease (0/169) (Figure 1A). In addition, the frequency of undetectable disease negative cases increased to 29% (61/211) and 65% (149/230) in the MR4.5 and MR5.0 groups, respectively (Figure 1A). By contrast, the frequency of MR4.0 with undetectable disease in the EURO-SKI trial was 72% (49/68), decreasing to 56% (48/85) and 58% (25/43) in the MR4.5 and MR5.0 groups, respectively (Figure 1B).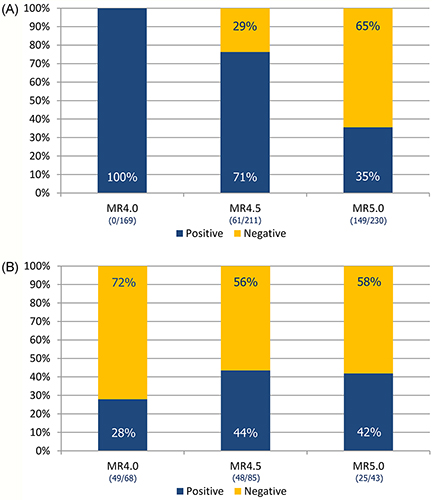 Conclusion

Our results suggest that (1) There may be a bias in patient stratification by molecular response in the EURO-SKI trial, making it impractical to attempt any association between molecular response depth and TFR success, (2) we should reassess the current classification of MR4.0 to include only patients with detectable disease and (3) the minimum quality criteria for scoring molecular response when disease is undetectable should be raised, with samples with <32000 ABL1 or <77000 GUSB transcripts be considered as unevaluable for classification of DMR.
Session topic: 7. Chronic myeloid leukemia - Biology & Translational Research
Keyword(s): Chronic myeloid leukemia, Molecular response, Treatment-free remission