Abstract: PF395
Type: Poster Presentation
Presentation during EHA24: On Friday, June 14, 2019 from 17:30 - 19:00
Location: Poster area
Background

Chronic lymphocytic leukemia (CLL) is typically associated with a significant  immune deficiency resulting in elevated risk of infections - the leading cause of death in CLL patients (pts). However, many specific mechanisms contributing to suppression of immunity in CLL are not yet well understood.
Aims

Comprehensive assessment of immunological parameters in patients with CLL.
Methods

We prospectively enrolled 126 CLL pts: 42 with clinically stable disease not requiring treatment (median age, 65 years; males, 50%; low/medium/high modified Rai risk, 59/36/5%) and 84 with CLL progression indicated for therapy (median age, 68 years; males, 64%; low/medium/high modified Rai risk, 0/43/57%). In addition, parameters of immunity were compared before and after first-line chemoimmunotherapy in 39 pts (FCR, n=13; BR, n=15; G-CLB, n=5; R-CLB, n=6). Control group consisted of 46 healthy blood donors (median age, 40 years; males, 59%). Cellular subpopulations (CLL cells, T cells, Th and Tc cells,  NK cells and polyclonal B cells) were quantified by flow cytometry (cytometer Navios, Beckman Coulter). Humoral immunity was evaluated by quantification of serum immunoglobulin concentrations (total IgG, IgG subclasses 1-4, IgA 1-2 and IgM) using Immunochemistry Image System (Beckman Coulter). Activation of complement was assessed by Wieslab Complement System Screen (Euro Diagnostica). Serum concentrations of immunity-regulating cytokines (IL-4, IL-5, IL-6, IL-10, IL-17A, IL-17F, IL-33 and IFN-γ) were determined by xMAP multiplex technology (Luminex). 
Results

Serum IL-4, IL-6 and IL-10 were elevated in CLL compared to controls (all p <0.0001). Polyclonal B cells were decreased (p<0.0001) whereas Tc cells were increased (p=0.019 and p<0.0001) in stable and progressive CLL in comparison to controls. Both CLL subgroups had significantly lower IgG, A and M when compared to controls (all p<0.0001). Progressive CLL pts had significantly higher numbers of NK cells (p=0.0003) and stable CLL pts significantly higher IFN-γ (p=0.01) vs controls. Pts with progressive CLL had significantly lower concentrations of IgG, A, and M (p=0.0012, p<0.0001 and p=0.027) than stable pts.  Chemoimmunotherapy resulted in significant decline of polyclonal B cells, NK cells, Th cells, Tc cells and T regs (all p<0.0001) but serum IgA and complement activation (both classical and alternative pathway) increased after therapy (p=0.048, p=0.002 and p=0.0017).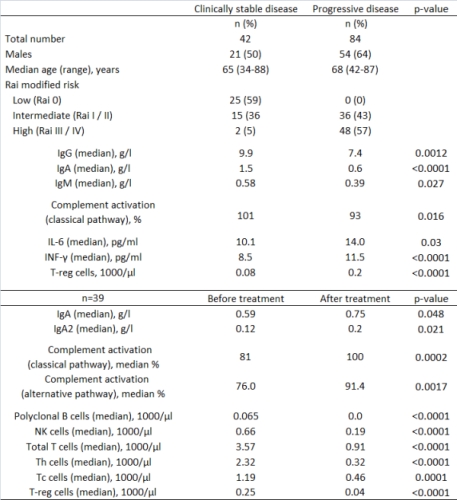 Conclusion

Conclusions: The present study identified multiple defects in cellular as well as humoral immunity in CLL pts. Clinical progression of CLL was associated with further decline of immune parameters. Cytoreductive therapy resulted in significant decrease in all physiological lymphocyte subpopulations; however, several markers of humoral immunity improved after treatment. The enrollment into the study continues and further analyses are underway including assessment of association of immune defects with infections and changes in immunological parameters over longer follow-up. Supported by project PROGRES Q40/08, by DRO Ministry of Health (UHHK, 00179906) and by League Against Cancer Prague.
Session topic: 6. Chronic lymphocytic leukemia and related disorders - Clinical
Keyword(s): Chronic lymphocytic leukemia, Immune deficiency, Infection