Abstract: PF378
Type: Poster Presentation
Presentation during EHA24: On Friday, June 14, 2019 from 17:30 - 19:00
Location: Poster area
Background
Idelalisib (IDELA) and duvelisib (DUVA), both oral agents, and copanlisib (COPA), an IV agent, are PI3K inhibitors approved as monotherapy for relapsed / refractory (R/R) follicular lymphoma (FL).  IDELA and DUVA are also listed in the National Comprehensive Cancer Network (NCCN) guidelines as monotherapy for R/R CLL.  All agents target PI3Kδ while DUVA also targets PI3Kγ and COPA also targets PI3Kα.  These drugs display comparable efficacy; therefore, anticipated treatment emergent adverse events (TEAEs) may guide selection of PI3Kδ inhibitor therapy.
Aims
To compare safety profiles for IDELA vs. COPA and IDELA vs. DUVA and to evaluate the effect of preexisting conditions on IDELA-induced TEAEs.
Methods
AEs for evaluation were identified in the "Highlights of Prescribing Information" in each drug's United States Package Insert (USPI).  Using the Safety Analysis Set (SAS) for IDELA-treated patients (pts) with R/R iNHL (N=163, median duration of treatment [mDoT] 27 weeks) and TEAEs reported for COPA-treated pts with FL and other hematologic malignancies (Aliqopa® USPI [N=168, mDoT 22 weeks], Dreyling et al., J. Clin. Oncol. 2017 [N=142, mDoT 22 weeks], and Dreyling et al., Blood. 2017 [N=142, mDoT 26 weeks]) or the SAS for IDELA-treated pts with R/R iNHL or CLL (N=261, mDOT 28.1 weeks) and TEAEs reported for DUVA-treated pts with hematologic malignancies (Copiktra™ USPI, N=442, mDOT 39.1 weeks), we compared the incidence of all grade (aGr), grade 3/4 (Gr3/4, for IDELA vs. COPA) or grade >3 (Gr>3, for IDELA vs. DUVA) TEAEs and the effect of preexisting comorbidities on selected IDELA-mediated AEs.  TEAE incidences were compared by estimating the difference in proportions with p-values based on Fisher's exact test.  
Results
IDELA-treated pts demonstrated significantly increased incidences of aGr and Gr3/4 AST and ALT elevation and diarrhea compared to COPA-treated pts.  In contrast, COPA-treated pts showed significantly increased aGr and Gr3/4 hyperglycemia and hypertension relative to IDELA (Table 1A).  IDELA-treated pts experienced significantly more Gr>3, but not aGr, AST and ALT elevation than DUVA-treated pts.  DUVA-treated pts experienced significantly higher aGr and Gr>3 diarrhea + colitis, lower respiratory tract infection, anemia, and neutropenia; aGr mucositis, musculoskeletal pain, and thrombocytopenia; and Gr>3 rash and fatigue than IDELA-treated pts (Table 1B). 
We evaluated the effect of co-morbidities in IDELA-treated patients on emergence of Gr3/4 or Gr>3 TEAEs observed more commonly in COPA-treated (hyperglycemia and hypertension) and DUVA-treated (diarrhea + colitis and rash) pts, respectively.  IDELA-treated pts with pre-existing diabetes mellitus or hyperglycemia experienced more Gr3/4 hyperglycemia; however, pre-existing hypertension had no impact on the frequency of aGr or Gr3/4 hypertension seen with IDELA.  Concomitant systemic steroids also did not increase hyperglycemia or hypertension in IDELA-treated pts.  A history of or predisposition to diarrhea did not increase the incidence of diarrhea + colitis and a history of rash or eczema did not increase rash in IDELA-treated pts.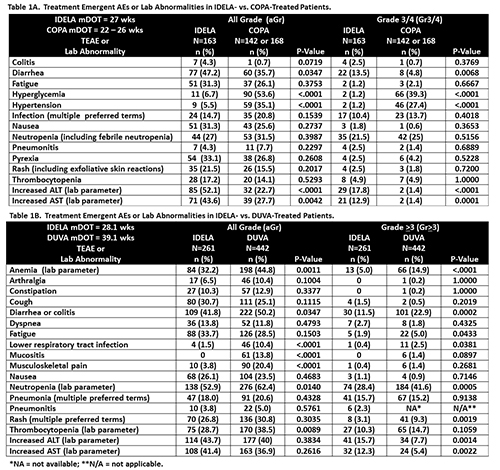 Conclusion
Although the approved PI3Kδ inhibitors may be perceived to be associated with synonymous AE profiles ("class effect"), this intra-class comparison highlights specific AE risks associated with each compound.  The potential emergence of specific AEs associated with each agent should be considered when selecting a PI3Kδ inhibitor, though drug exposure differences and major limitations of cross-trial comparisons should be noted.
Session topic: 6. Chronic lymphocytic leukemia and related disorders - Clinical
Keyword(s): Adverse reaction, B cell chronic lymphocytic leukemia, B cell lymphoma, PI3 kinase