Abstract: PF321
Type: Poster Presentation
Presentation during EHA24: On Friday, June 14, 2019 from 17:30 - 19:00
Location: Poster area
Background
DLBCL represents the most common subtype of non-Hodgkin lymphoma worldwide, but current data is limited on the treatment patterns of patients in clinical practice. Standard of care frontline therapy consists of RCHOP or equivalent. In October 2015, DLBCL administrative claims were differentiated from primary mediastinal large B-cell lymphoma (PMBCL) with the advent of ICD-10-CM disease-specific codes, allowing a more focused look at these populations.
Aims
This study aims to describe real-world treatment patterns among patients diagnosed with DLBCL in the US. 
Methods
A retrospective database analysis was conducted using the Optum Clinformatics DataMartTM database (01/2013–03/2018). Patients with ≥1 hospitalization or ≥2 outpatient encounters with an ICD-10-CM diagnosis code for DLBCL (or an antecedent ICD-10-CM diagnosis of other lymphoma, which may have been assigned before confirmation of DLBCL) after October 1st, 2015 (index date) were classified as incident if they had no prior ICD-9-CM diagnosis code for unspecified DLBCL or PMBCL, or as prevalent if they had a prior ICD-9-CM code for unspecified DLBCL or PMBCL before October 2015 (index date). At least 12 months of continuous enrollment pre-index date (baseline period) and ≥18 years of age as of the index date was required. Patients with any ICD-10-CM diagnosis for PMBCL were excluded; along with patients with baseline diagnoses of Hodgkin lymphoma, multiple myeloma, or other selected lymphomas. An adapted algorithm developed from previously published studies was used to identify lines of therapy (LOT). Duration of therapy spanned from LOT initiation up to discontinuation of all agents in the LOT, a switch to another LOT, or the addition of a new agent.
Results
Among 4,074 DLBCL patients (3,201 incident, 873 prevalent), median (IQR) age was 73 (65–80) years; 46% were female. Incident and prevalent patients had mean Charlson comorbidity index scores of 2.7 and 2.3, respectively. Analysis of treatment patterns (Table 1), showed that 1,877 incident patients (58.6%) were treated with ≥1 LOT (mean ± standard deviation [SD] duration of therapy [DOT]: 81.1 ± 65.9 days), and 22.6% of patients treated received ≥2 LOT (mean ± SD DOT: 74.2 ± 91.9 days). Mean ± SD time from index date to the first line (1L) initiation was 47.1 ± 62.1 days. Similarly, 74.6% of prevalent patients were treated with ≥1 LOT (mean ± SD DOT: 110.1 ± 125.3 days), while 38.4% of patients treated received ≥2 LOT (mean ± SD DOT: 123.2 ± 206.9 days). Their mean ± SD time from index date to 1L initiation was 73.9 ± 158.8 days. The most frequently used 1L therapies of both incident and prevalent patients were R-CHOP (65.3% and 66.8%), monotherapy with rituximab (7.2% and 7.1%), bendamustine plus rituximab (4.7% and 5.2%), R-CVP (rituximab, cyclophosphamide, vincristine, and prednisone; 2.5% and 3.4%), and R-CEOP (cyclophosphamide, etoposide, vincristine, and prednisone; 1.8% and 2.0%).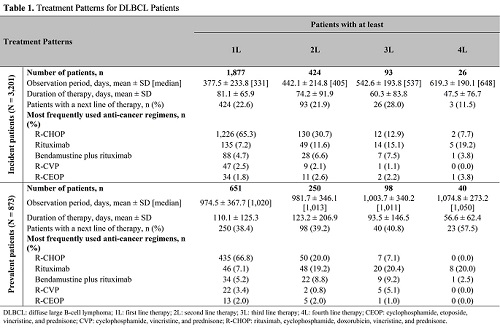 Conclusion
This real-world study of DLBCL patients suggests that a substantial proportion of these patients require treatment beyond 1L, highlighting the unmet need within this population.
Session topic: 19. Aggressive Non-Hodgkin lymphoma - Clinical
Keyword(s): Diffuse large B cell lymphoma, DLBCL, Non-Hodgkin's lymphoma, Treatment