Abstract: PF314
Type: Poster Presentation
Presentation during EHA24: On Friday, June 14, 2019 from 17:30 - 19:00
Location: Poster area
Background
In February 2017, CT-P10 became the first biosimilar of rituximab to be approved in Europe for treatment of rheumatic diseases and specific blood cancers including non-Hodgkin's lymphoma (NHL). Diffuse large B-cell lymphoma (DLBCL) is the commonest type of NHL, representing an estimated 40-58% of cases (Sant et al, 2010). To date, no studies have investigated the effectiveness or safety of CT-P10 in patients with DLBCL in the real world clinical setting.
Aims
To evaluate the real world clinical effectiveness and safety of CT-P10 in patients with DLBCL in Europe.
Methods
This non-interventional post-authorisation safety study is in progress in five European countries (France, Germany, Italy, Spain and the United Kingdom [UK]), and involves collection of data from the medical records of consenting adult patients with DLBCL who were treated with CT-P10 as part of their routine clinical care. Effectiveness and safety data are being collected for an observation period of 30 months after the index date (date of CT-P10 initiation) or until death, if sooner. The primary objective is to describe the effectiveness of CT-P10 (overall survival, progression free survival, CT-P10 responses), with secondary objectives to describe the safety profile and CT-P10 treatment pathways. Response to CT-P10 is as documented by the local investigator. Here we report interim results (patients' baseline characteristics and preliminary response/safety data), based on a data cut on 18 January 2019. Where n is less than the total number of patients, data were missing.
Results
The interim analysis includes 151 patients enrolled from sites in the UK and Spain, with a median 8.9 months (interquartile range [IQR] 6.1–12.6) post-index observation at the cut-off. Patients are receiving CT-P10 as a first-line (n=138, 91%), second-line (n=9, 6%) or third-line (n=4, 3%) DLBCL treatment. Ninety-five (63%) patients are male. Other patient characteristics at index: median age 70.9 years (IQR 61.5–76.0) (n=149); median disease duration 20 days (IQR 10.5–41.0) (n=147); Eastern Cooperative Oncology Group performance status (n=98): 0 (n=45, 46%), 1 (n=36, 37%), 2 (n=11, 11%), 3 (n=4, 4%) or 4 (n=2, 2%); Ann Arbor stage (n=77): I (n=8, 10%), II (n=9, 11%), III (n=18, 21%), IV (n=40, 48%) or other (n=2, 2%; recorded as 'at least stage II'). Best responses to CT-P10 (evaluable in n=128) are shown in Fig. 1.  Safety of CT-P10 was evaluable in 128 patients, of whom 118 (92%) experienced adverse events (AEs) during the observation period (732 AEs recorded in total, including infusion-related reactions), 77 (60%) had AEs of grade 3 and above and 11 (9%) discontinued CT-P10 due to AEs.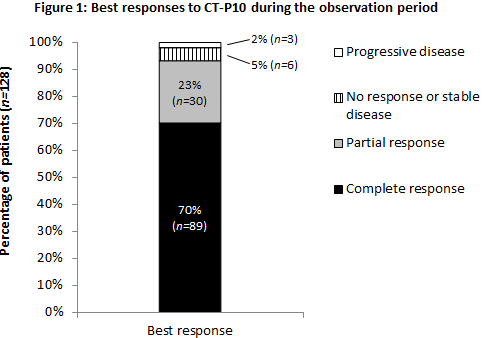 Conclusion
Early results from this ongoing study suggest that a high proportion of patients with DLBCL treated with CT-P10 in the real world achieve complete or partial responses, similar to the response rates reported previously for reference rituximab (Horvat et al, 2017). Continued recruitment and extended follow-up will enable more comprehensive analyses of CT-P10 effectiveness and safety.
Session topic: 19. Aggressive Non-Hodgkin lymphoma - Clinical
Keyword(s): DLBCL, Outcome, Rituximab, Safety