Abstract: PF292
Type: Poster Presentation
Presentation during EHA24: On Friday, June 14, 2019 from 17:30 - 19:00
Location: Poster area
Background
Glasdegib is a potent, selective, oral inhibitor of the Hedgehog signaling pathway, approved in the US – in combination with low-dose cytarabine (LDAC) – for the treatment of newly diagnosed acute myeloid leukemia (AML) in patients unable to receive intensive chemotherapy due to comorbidities or age (75 years or older).
Aims
To evaluate long-term efficacy and safety of LDAC with or without glasdegib in patients newly diagnosed with AML unable to receive intensive chemotherapy due to comorbidities or age.
Methods
In this follow-up analysis from the phase 2 BRIGHT AML trial (NCT01546038), newly diagnosed patients with AML ineligible for intensive chemotherapy were randomized 2:1 to glasdegib + LDAC or LDAC alone (study design was reported previously: Cortes et al., Leukemia 2018). This long-term analysis evaluated efficacy and safety after approximately 20 months of additional follow-up.
Results
As of October 11, 2018, 116 patients were assigned to treatment with glasdegib + LDAC (n=78) or LDAC alone (n=38). The median follow-up time for glasdegib + LDAC and LDAC alone was 43.4 and 42.0 months, respectively. The median overall survival was higher with glasdegib + LDAC vs LDAC alone (Table). Improvement in overall survival was consistent across the prespecified subgroups. The main cause of death in both arms was disease progression (both during study and follow-up). The incidence of adverse events (AEs) and serious AEs on glasdegib was generally lower long term (after 90 days) than short term (during the first 90 days) (83.7% and 51.2% vs 98.7% and 65.3%, respectively).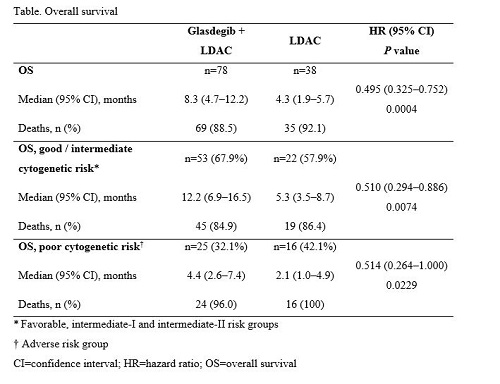 Conclusion
Addition of glasdegib to LDAC vs LDAC alone continued to demonstrate improved overall survival in patients with AML in this analysis; improvement was consistent across groups stratified by cytogenetic risk. Long-term follow-up confirmed that treatment with glasdegib was associated with an acceptable safety profile.
Session topic: 4. Acute myeloid leukemia - Clinical
Keyword(s): Acute myeloid leukemia, Clinical outcome, Long-term follow-up