Abstract: PF250
Type: Poster Presentation
Presentation during EHA24: On Friday, June 14, 2019 from 17:30 - 19:00
Location: Poster area
Background
hnRNP K is a poly(C)-binding protein that tenaciously binds C-rich tracks of DNA and RNA,
involved not only in the processing of hnRNAs into mature mRNAs but also in regulating gene
expression. Large complexes are mobilized through nuclear pores to ribosomes, and hence, hnRNP K participates in the nuclear-cytoplasmic shuttling and transmission of information from the nucleus to the cytoplasm. Moreover, one of the most prominent cancer drivers, regulated by hnRNP K, is c-Myc. Nuclear to ribosome mobilization and c-Myc are both factors involved in nucleolar stress induction, a well-known mechanism of tumorigenesis.
Aims
Our working hypothesis will test the impact in proliferation and tumour development of hnRNP K
overexpression due to nucleolar stress.
Methods
Clinical bone marrow samples from acute myeloid leukaemia (AML) patients were used to study
the levels of expression of HNRNPK gene. Additionally, we analyzed the number of copies by
FISH. Moreover, reverse phase protein array (RPPA) analysis of AML patients was performed and
it showed HNRNPK and C-MYC overexpression correlation.

Further validation of human patients was performing with two hnRNP K overexpression mice
models, hnRNPK Tg /EIIa-Cre and hnRNPK Tg /UBC-Cre. Tissues and MEFs molecular analysis (RT-PCR and WB) of hnRNP K, c-Myc and nucleolar stress markers (B23: NPM1, C23: Nucleolin)
were performed. In addition, we analyzed by confocal microscopy the co-localization of nucleolar
sensors and hnRNP K protein.

Finally, nucleolar stress induction by POL1 inhibitors (e.g. Actinomycin D, BMH-21, etc.) was
tested in transgenic mice derived MEFs.
Results
The clinical results in AML patients reveal overexpression of HNRNPK, that could be justified by
the amplification in the number of copies of the gene found by FISH analysis. Moreover, HNRNPK
overexpression correlates with c-MYC overexpression in AML patients.

hnRNP K overexpression mice models tissues and MEFs showed hnRNP K direct correlation with
c-Myc and nucleolar stress sensors elevation (B23 and C23). Furthermore, we observed a hnRNP K
miss-localization, similar that the one showed with nucleolar stress induction by POL1 inhibitors.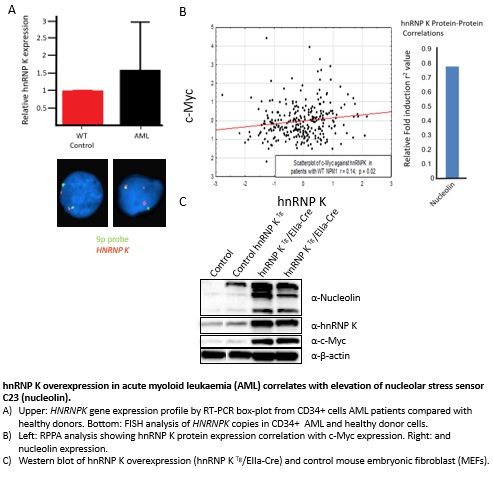 Conclusion
HNRNPK is amplified and overexpressed in AML patients. Moreover, c-MYC is positively
correlated with HNRNPK, suggesting a direct regulation of HNRNPK over C-MYC in AML. We
revealed that hnRNP K overexpression induces nucleolar stress, a common hallmark of AML as we observed in the molecular profile of a plethora of patients in molecules involved with nucleolar stress (e.g. NPM1, HNRNPK, TET2, DNMT3A, or RUNX1 mutations). To conclude, we revealed such a novel leukemogenic mechanism in AML through nucleolar stress activation induced by hnRNP K, with or without the collaboration of c-Myc.
This work was financially supported by CRIS contra el Cancer Association (NGO) and AES ISCIII
(PI18/00295)
Session topic: 3. Acute myeloid leukemia - Biology & Translational Research
Keyword(s): Acute myeloid leukemia, Mouse model