Abstract: PF232
Type: Poster Presentation
Presentation during EHA24: On Friday, June 14, 2019 from 17:30 - 19:00
Location: Poster area
Background
AML is a clinically, biologically and molecularly heterogeneous disease with diverse patient (pt) outcomes. In 2010, the ELN proposed guidelines for reporting cytogenetic and selected molecular abnormalities in AML to enable meaningful comparisons among studies. The prognostic value of the 2010 ELN risk groups [Favorable (Fav), Intermediate (Int)-I, Int-II and Adverse (Adv)] has been confirmed in several studies (Röllig et al. JCO 2011;29:2758; Mrózek et al. JCO 2012;30:4515; Alpermann et al. Leuk Res 2013;37:197; Bill et al. Bone Marrow Transplant 2017;52:932). The 2017 revision of the ELN classification (Döhner et al. Blood 2017;129:424) replaced the 4 with 3 risk categories (Fav, Int, Adv) and increased the number of molecular markers used to classify pts.
Aims
To our knowledge, a validation of the prognostic value of the 2017 ELN classification in a large cohort of younger adult pts [aged <60 years (y)] is lacking.
Methods
We analyzed 863 pts (median 45 y, 17-59 y) with de novo AML treated on CALGB/Alliance protocols. All pts received similar cytarabine/anthracycline-based treatments; none received allogeneic stem cell transplantation in first complete remission (CR). The pts' pretreatment karyotypes were centrally reviewed. The mutational status of NPM1, RUNX1, ASXL1 and TP53 were determined by targeted next-generation sequencing, of the CEBPA gene by Sanger sequencing, and of FLT3-ITD by fragment analysis in pretreatment bone marrow or blood samples. Pts were classified into the Fav, Int or Adv groups according to the 2017 ELN criteria. Fisher's exact and Wilcoxon rank-sum tests were used to test categorical and continuous variables, respectively. Estimated probabilities of disease-free survival (DFS) and overall survival (OS) were calculated using the Kaplan-Meier method.
Results

Most pts were classified as Fav (49%), followed by Adv (29%) and Int (22%). At diagnosis, Fav pts had the lowest percentage of blood (P=.05; 52% Fav v 56% Adv v 62% Int) and bone marrow blasts (P<.001; 63% Fav v 67% Adv v 74% Int) and highest percentage of extramedullary disease (P=.01; 31% Fav v 26% Int v 20% Adv). Adv pts had the lowest white blood cell counts (P=.01; 20.7 x109/l Adv v 24.2 x109/l Fav v 28.6 x109/l Int) at diagnosis. Concerning outcome, there were significant differences among the 2017 ELN genetic risk categories in rates of CR (P<.001; 92% Fav v 77% Int v 48% Adv). There were also differences in DFS (P<.001; Fig. 1A) with 5-y DFS rates of 49% Fav, 20% Int and 7% Adv. For OS, we found also significant differences (P<.001; Fig. 1B) among the ELN groups with 5-y OS rates of 58% Fav, 26% Int and 15% Adv. Pairwise comparisons between the ELN risk categories for DFS and OS were also significant for all combinations, except for DFS between the Int and Adv groups (P=.12). Next, we analyzed whether the prognostic markers that were newly included in the 2017 ELN revision (i.e. biallelic CEBPA, RUNX1, ASXL1, TP53 and FLT3-ITD allelic ratio) refined its prognostic impact. In our cohort, we found that indeed all markers had a significant impact on outcome except ASXL1 (DFS: P=.31; OS: P=.26).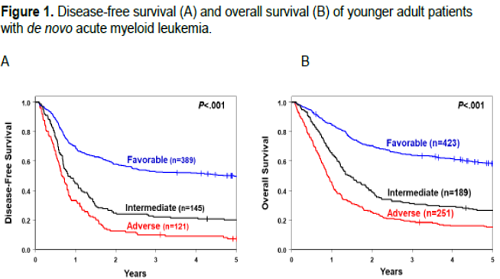 Conclusion
The 2010 ELN reporting system for AML is one of the most commonly used classifications and its prognostic impact is well established. Our validation study of the revised 2017 ELN risk classification, performed on a large cohort of younger adult de novo AML pts receiving intensive chemotherapy, showed that the Fav group has a significantly better outcome followed by the Int and Adv risk groups.
Support: U10CA180821, U10CA180882, U10CA180861, U24CA196171
Session topic: 3. Acute myeloid leukemia - Biology & Translational Research
Keyword(s): Acute myeloid leukemia, AML