Abstract: PF226
Type: Poster Presentation
Presentation during EHA24: On Friday, June 14, 2019 from 17:30 - 19:00
Location: Poster area
Background
The evaluation of minimal residual disease (MRD) using flow cytometry (MFC) is an essential tool in decision making in acute myeloblastic leukemia (AML). Here we present a reproducible analysis strategy based on automatic separation of cell clusters analyzed by fully standardized methods (EuroFlow standards).
Aims
1) To develop a reproducible strategy to identify and quantify leukemic clusters using standardized procedures throughout the follow-up 2) To study its reproducibility among different investigators 3) To validate the strategy analyzing the correlation between MFC-MRD and PCR-MRD as well as between MFC-MRD and disease free survival (DFS).
Methods
Patients and samples: 101 AML patients (May 2014 to December 2018) in first complete remission. Normal databases: Bone marrow normal samples of 25 patients. The reference images were created in CD117+ and CD117- compartments according to different routes of the early/intermediate myeloid maturation. Diagnostic phase: Leukemic clusters were first identified and then compared with the normal maturational counterpart (APS Infinicyt). The leukemia-associated immunophenotype (LAIP) specificity was successively calculated by quantifying the percentage of normal events that were indistinguishable from leukemic cells using the planned monitoring strategy. The most informative combinations were chosen for monitoring. Evaluation of the MFC-MRD: A mean of 4.1 million cells per tube were analyzed (IC90% 2.9-5.3). The MFC-MRD was determined on day +30 by three independent investigators considered positive when a suspect cluster was clearly differentiable from the normal counterpart but not necessarily identical to the original leukemic population. Statistical methodology: Kendall rank correlation coefficient (KCC) was used to evaluate concordance and survival curves were plotted using the Kaplan-Meier method and the log-rank test (SPSS Version 15.0 software).
Results
1) The strategy was applicable in 92% of the patients whereas in only 8% of patients none of the standardized combinations were clearly informative of LAIPs.  2) An average of 3.7 clusters (CI 90% 1.7-5.8) were identified in each patient. The specificity of LAIPs ranged between 7.8x10-2 and 1.0x10-5. The highest sensitivity reached was 10-5 (50 events over 5 million cells analyzed CV 15%) (Fig. 1 A).  3) During the follow-up the most frequently used combinations (41%) were tubes 1 + 4 (granulocytic lineage + TdT, CD7, CD56, CD19) although combinations of up to 5 tubes were sometimes necessary.  4) The results showed a high reproducibility within the investigators (KCC =0.91 & Dev < 0.1).  5) Molecular follow up was evaluable in 46 PCR+ patients (7 RUNX1-RUNX1T1, 5 CBF-MYH11, 7 KMT2A MLL-T3, 23 NPM1, 4 CEBPA). We found a positive/negative concordance between MFC-MRD and PCR of 89%.  6) Patients in the MFC-MRD<0.01% group had a significantly longer DFS than the remaining patients after a follow-up of 30 months (79.3% DFS vrs 32.4% Fig. 1 B).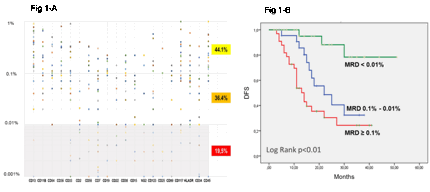 Conclusion
1) The reproduction of experiments performed at diagnosis and the automatic characterization of each cluster using specific databases is a promising way to achieve consensus in AML-MRD.  2) The sensitivity threshold of MFC/MDR is individual and depends on the number and specific characteristics of the leukemic clusters detected in each particular case.  3) The threshold of 0.1% is clearly insufficient and should be reconsidered in order to establish new risk stratifications in the disease.
Session topic: 3. Acute myeloid leukemia - Biology & Translational Research
Keyword(s): Acute myeloid leukemia, Flow cytometry, MRD, Prognosis