Abstract: PB2158
Type: Publication Only
Background

IgE multiple myeloma (MM) is an uncommon hematologic malignancy, which represents <0.01% of all diagnosed MM cases. In the current literature, there are only several dozen cases described. The clinical features and treatment outcomes of IgE MM  patients have not been compared to other MM isotypes.
Aims
To describe the clinical characteristics and outcomes of patients with IgE MM.
Methods

We completed a retrospective chart review using a standardized protocol from 50 clinical centers specializing in MM management and treatment. We describe the clinical presentation, diagnostic results, management and treatment outcomes of patients with IgE MM. Clinical and pathological features are presented using descriptive statistics. Response was assessed using IMWG criteria. Overall survival was estimated using the Kaplan-Meier method.
Results

We report data on 18 patients with IgE MM diagnosed between 1982 and 2016 from 9 centers from Hungary, Italy, Israel, Poland and the United States. The table summarizes patient characteristics at diagnosis. The most common symptoms reported were available in 14 patients, and included bone pain (n=12, 86%), constitutional symptoms (n=5, 36%), anemia (n=3, 21%), renal failure and paresthesia (n=1 each). Flow cytometry data were available in only 6 patients. CD38 and CD138 expression was positive while CD20 expression was negative in all patients. CD56 expression was positive in 3 patients (50%). Cytogenetic testing was available in 10 patients:  2 (20%) with t(11;14), 2 (20%) with del13q, 2 (20%) with del17p, and 1 (10%) with t(4;14). First line treatment included the following: 6 (38%) received an immunomodulatory drug, 10 (63%) received a proteasome inhibitor, 11 (69%) received conventional chemotherapy, and 7 (44%) subsequently underwent autologous stem cell transplantation. Response to first line treatment was available in 10 patients:  4 (40%) complete response, 3 (30%) very good partial response and 3 (30%) partial response, for an overall response rate of 100%. At a median follow-up of 8.1 years, the 5-year and 10-year overall survival (OS) rates were 63% (95% CI: 35 - 82%) and 54% (95% CI: 26 - 76%), respectively. The median OS was not reached. The cause of death was known in 3 patients and included disease progression, amyloidosis and secondary plasma cell leukemia.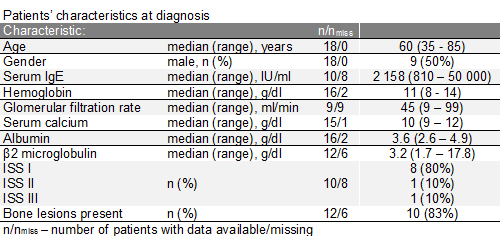 Conclusion

The present case series is the largest reported to date of this rare type of MM. The clinical, pathological features and responses of patients with IgE MM appear similar to other isotypes. The OS time was longer than previously reported in this small series. However, it should be noted that most previously published cases came pre-date the availability of novel agents. Most of the patients reported in this study were exposed to novel agents, which could have impacted on the longer survival observed here.
Session topic: 14. Myeloma and other monoclonal gammopathies - Clinical