Abstract: PF620
Type: Poster Presentation
Presentation during EHA23: On Friday, June 15, 2018 from 17:30 - 19:00
Location: Poster area
Background
Interferon-α2 (IFNα2) reduces elevated blood cell counts and splenomegaly in pts with myeloproliferative neoplasms (MPN), and has demonstrated the potential to restore polyclonal hematopoiesis. In a subset of pts, long-term treatment with IFNα2 may induce 'minimal residual disease' defined by normal blood cell counts, normal bone marrow morphology, and low clonal allelic burden (< 1%). Its use is limited by inflammation-mediated toxicity, leading to treatment discontinuation in 20-30% of pts. Ruxolitinib (Rux), a potent anti-inflammatory agent, has shown benefit in pts with myelofibrosis (MF) and polycythemia vera (PV) in regard to reducing splenomegaly and symptoms. However, in the majority of pts Rux does not markedly reduce the mutant allelic burden. Combination therapy (CT) with these two agents may be more efficacious than monotherapy with either, potentially improving tolerability of IFNα2 as well.
Aims
To investigate the safety and efficacy of CT with IFNα2 and Rux in MPN pts.
Methods
The COMBI study (#EudraCT2013-003295-12) is a prospective, open-label, single-arm, multicenter phase II study of CT with pegylated IFNα2 (PEG-IFNα2) and Rux in MPN pts (off-label use). Initial therapy was PEG-IFNα2a 45 μg or PEG-IFNα2b 35 μg once weekly SC and Rux 20 mg BID PO. Planned treatment duration is 24 months. Enrollment is completed, and we report the results from 12 months of follow-up in the 50 enrolled pts. Of these, 32 pts had PV, and 18 pts had low-/intermediate-1-risk MF (primary MF, n=13; post-PV MF, n=4; post-essential trombocythemia, n=1). The majority of the pts (n=47) were resistant and/or intolerant to IFNα2 monotherapy. Objectives included remission (ELN and IWG-MRT 2013 revised criteria encompassing histologic, hematologic, and clinical responses), toxicity, complete hematologic response (CHR), and molecular response. All pts provided written informed consent.
Results
Partial remission (PR) and sustained CHR were achieved in 9% and 44% of PV pts, respectively. In MF pts, complete or partial remission was achieved in 39%, and sustained CHR in 58%. The median JAK2V617F allelic burden declined significantly from 47% (range, 1.8-97%) to 23.5% (range, 0.73-89%; P<.0001) in PV pts, and from 45% (range, 0.1-97%) to 18% (range, 0.08-95%; P<.0001) in MF pts. Hematologic toxicity was the most common adverse event (AE) and was managed by dose reduction. The most common non-hematologic AEs were arthralgia and/or myalgia (n=40, in 24 pts), symptoms related to PEG-IFNα2 injection (flu-like symptoms, injection site reactions; n=36, in 24 pts), and gastrointestinal symptoms (nausea, abdominal pain, dyspepsia, diarrhea; n=31, in 27 pts). Thirty-seven serious adverse events (SAEs) were recorded in 23 pts. Four SAEs; angina pectoris, herpes zoster (n=2), and anemia/thrombocytopenia, were considered causally related to study therapy. One thromboembolic event (ischemic stroke) was recorded in a PMF pt. The discontinuation rate was 20%.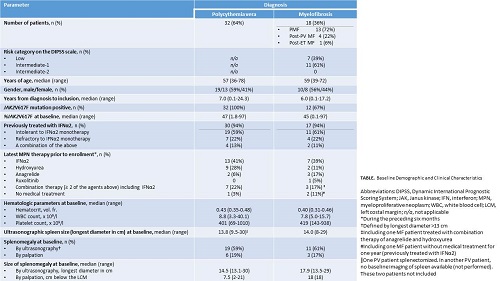 Conclusion
We conclude that CT with IFNα2 and Rux is feasible and efficacious in pts with low-/intermediate-1-risk MF and, to a lesser extent, in pts with PV including in pts who were unresponsive or intolerant to IFNα2 monotherapy. A high number of SAEs was reported which in many cases reflected short hospitalizations (< 24 hrs) elicited by signs of infection. These preliminary results encourage phase III studies as well as a study with CT in newly diagnosed MPN pts.
Session topic: 16. Myeloproliferative neoplasms - Clinical