Abstract: PS1442
Type: Poster Presentation
Presentation during EHA23: On Saturday, June 16, 2018 from 17:30 - 19:00
Location: Poster area
Background
Acute myeloid leukemia (AML) is the most common form of leukemia in adults in the United States (US). Prognosis is poor, especially for patients with relapsed/refractory (R/R) disease. Treatment options for R/R AML are limited and, until recently, no new drugs had been approved in over 4 decades. Ivosidenib is an oral monotherapy in clinical trials for the treatment of IDH1-mutated (mIDH1) R/R AML. The phase 1, single-arm trial showed a complete remission or complete remission with partial hematologic recovery rate of 30.4% and a favorable adverse event (AE) profile. As health-related quality of life (HRQoL) data was not collected in the trial, a modeling exercise was undertaken to understand the potential utility benefit associated with ivosidenib compared to other treatments used for R/R AML.
Aims
The objective of the study was to estimate the lifetime HRQoL impact of ivosidenib in R/R AML.
Methods
A partitioned survival model leveraging event-free survival (EFS) and overall survival (OS) curves considered the impact of clinical performance and AEs on HRQoL. No directly comparable clinical trials were found for mIDH1 patients, and available evidence for non-mIDH1 comparators had missing data metrics and poorly matched populations. As such, two modeling approaches were considered: 1. Using survival data from the phase 1 ivosidenib trial for all interventions (AE differences only) and 2. Using published survival data from a phase 3 R/R AML clinical trial of clofarabine + cytarabine (AE and EFS/OS differences) for all comparators. Grade ≥3 AEs occurring in ≥5% of patients were included. The model considered time to remission, number of treatment cycles, and two rounds of induction/consolidation therapy, where applicable. AE rates were derived from available clinical studies. Utility values for each disease phase and disutilities for each AE were from the published literature. The total disutility attributed to AEs for each intervention was calculated using an additive approach.
Results
Assuming ivosidenib survival is representative of other comparators (no survival benefit), ivosidenib produces slightly more quality-adjusted life years (QALYs) [range: 0.030 vs LoDAC to 0.399 vs midostaurin+chemotherapy], largely driven by benefits of AE reductions in infections and hematologic disorders. Applying the clofarabine+cytarabine survival data to the comparators increases incremental QALYs [range: 0.058 vs. LoDAC to 0.399 vs. midostaurin+chemotherapy] due to gains in life years for ivosidenib [0.081 vs. all comparators]. Baseline estimates are conservative, as the model did not include several potential benefits of ivosidenib (e.g. impact of stable disease, hospitalization rates and transfusions). Further, given the limited published studies with both EFS and OS data, the modeled comparator data was based on a trial of patients who had received ≤2 prior regimens and thus would be expected to demonstrate better EFS and OS than patients in the ivosidenib trial who had received a median of 2 prior regimens. The additive disutility approach for AEs potentially over-estimates overall AE impact on HRQoL for more toxic therapies, however, scenario analyses comparing only the single most impactful AE event across comparators still result in incremental QALY gains for ivosidenib, reinforcing baseline findings.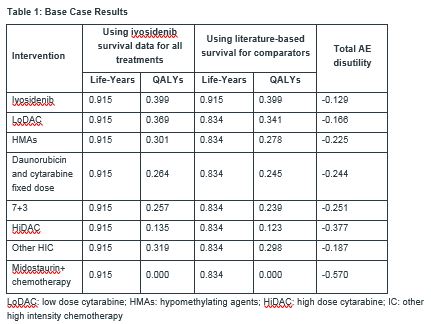 Conclusion
Given the potential for improved survival and its favorable AE profile versus other R/R AML therapies, ivosidenib is expected to improve HRQoL over patients' lifetimes in the mIDH1 R/R AML population.
Session topic: 36. Quality of life, palliative care, ethics and health economics