Abstract: PS1366
Type: Poster Presentation
Presentation during EHA23: On Saturday, June 16, 2018 from 17:30 - 19:00
Location: Poster area
Background
The myeloproliferative neoplasms (MPNs) are an uncommon hematologic malignancy that affects approximately 350,000 individuals in the United States (Blood. 2012;120(21)A2834). The disease course can be complicated for patients, including severe disease related symptom burden, thrombosis, bleeding, multimodal treatment plans, and risk of disease progression (Blood. 2017 Feb 9; 129(6): 680–92). Disease-related patient registries can be a useful and important tool for rare disease research and surveillance.
Aims
The advisors and board of the MPN Research Foundation aimed to create a prospective patient-reported MPN registry to capture demographics, disease related events, and symptom burden.
Methods
Using the platform of the Genetic Alliance an online registry was created which assessed MPN patients' baseline demographics and disease history with prospective patient-reported disease events and symptom burden. Symptom burden was assessed via the Myeloproliferative Neoplasm Symptom Assessment Form Total Symptom Score (MPN SAF TSS; Blood 2011; 118(2):402-8). Approximately 50 MPN patients were utilized for beta testing of the registry. The registry was approved by the Genetic Alliance IRB prior to launch. The link to join the registry was disseminated among multiple MPN-related websites.
Results
Accrual: A total of 454 US MPN patients initiated the online registry process.  Of these, 355 individuals completed the introductory demographic and disease information surveys.  Respondents were predominantly female (63.7%). Registry enrollment by date since registry initiation is demonstrated in Figure 1a.
Disease-related information: The disease distribution of participants was similar to previously published data in the US, including 45.1% with essential thrombocythemia (ET), 39.9% with polycythemia vera (PV), and 12.6% with myelofibrosis (MF). 318/344 participants endorsed having disease-specific genetic testing.  57.4% of respondents reported having low blood counts, hemorrhage or thrombosis. Most frequent therapies included aspirin (75.5%), hydroxyurea (42.1%), JAK inhibitor (17.6%), interferon (6.0%) or no therapies (9.9%).  Thus far, 303 participants prospectively reported 902 disease-related events such as blood draws (37.3%), phlebotomy (14.2%), change in MPN medicines (9.6%), bone marrow biopsies (6.9%), transfusion (4.8%), unplanned hospital stays (4.5%), thrombotic or bleeding events (2.4%), or pregnancy (0.2%).
Disease Symptom Burden: At the time of data analysis, 250 participants completed a 418 MPN-10 symptom surveys.  Mean MPN10 scores were similar to previously published results for ET and PV (Figure 1b-c). Analysis to compare symptom scores for MF are ongoing.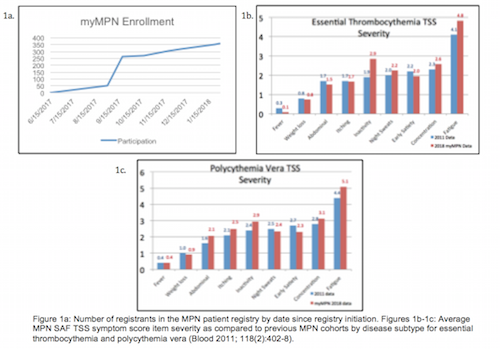 Conclusion
An MPN patient registry has the capabilities of addressing key critical questions regarding MPN patient symptom and treatment needs. Its dynamic nature allows researchers and patient advocates to prospectively connect with individual patients regarding additional information and unmet needs in this rare population. At this time, registration is only available to individuals in the United States, although ongoing efforts are planned to recruit English-speaking MPN patients from the United Kingdom, Australia, New Zealand, and Canada. Further efforts in regards to grow patient registry enrollment and disease questionnaires are ongoing. 
Session topic: 16. Myeloproliferative neoplasms - Clinical