Abstract:
PS1300
Type:
Poster Presentation
Presentation during EHA23:
On Saturday, June 16, 2018 from 17:30 - 19:00
Location:
Poster area
Background
Therapeutic advances in the past 15 years have resulted in significantly improved outcomes for MM patients (pts). However, in worldwide routine clinical practice, there is no standard of therapy in the management of newly diagnosed or relapsed/refractory MM (NDMM/RRMM). Outcomes reported in real-world clinical practice versus controlled clinical trials show markedly shorter treatment durations, progression-free and overall survival. Understanding the global availability and effectiveness of treatment regimens is critical.

Aims
INSIGHT MM (NCT02761187), the largest global, prospective, observational MM study to date, aims to understand disease and pt characteristics at presentation and relapse, treatment and clinical outcomes, and the association of treatment with tolerability, effectiveness, quality of life, and healthcare resource utilization. This pre-specified first interim analysis focused on global and regional treatment patterns.
Methods
More than 4000 adult pts with NDMM or RRMM (1–3 prior therapies) will be enrolled from 15 countries in Europe (EU), the United States (US), Asia and Latin America (LA). Pts will be followed prospectively for ≥5 yrs.
Results
At data cut-off, 1000 (535 NDMM, 465 RRMM) pts had been enrolled in 13 countries. RRMM pts had received a median of 2 prior therapies. Overall, 476 (48%) pts were from EU (8 countries), 337 (34%) from the US, 94 (9%) from Taiwan, 93 (9%) from LA (3 countries); 77% White/Caucasian, 11% Asian, 8% Black/African American. Median age was 63 (range 32–89) and 67 (36–94) yrs for NDMM and RRMM pts, respectively; 68 (13%) and 91 (20%) were aged >75 yrs (19%/15%/11%/10% in EU/US/Taiwan/LA). 35% and 38% of NDMM and RRMM pts, respectively, had Charlson Comorbidity Index scores ≥1. 36% and 45% of RRMM pts had received prior SCT in 1st line and any line of therapy, respectively. Overall, 60% were treated at academic centers (96%/83%/29%/24% in Taiwan/EU/US/LA); 85% were treated outside of clinical trials. 29% were diagnosed unexpectedly during blood tests/radiological exams; other common reasons for pts seeking care were bone pain (34%), weakness/fatigue/anemia (13%), and kidney problems (6%); this breakdown was similar in academic and community centers. In RRMM pts, time to relapse decreased with each subsequent line of therapy (median times to relapse during 1st/2nd/3rd line therapy were 23.4/16.6/10.3 months). At start of treatment, 31% (NDMM) and 63% (RRMM) of physicians selected a treat-to-progression regimen. The most commonly administered regimens are shown in the Table. Overall, triplet regimens dominated over doublets (52% vs 24%) for NDMM pts; bortezomib was most commonly used (65%). For RRMM pts, doublets were more common than triplets (47% vs 39%); lenalidomide-based therapy was preferred at relapse (40%). 50% of pts who received a proteasome inhibitor (PI) at 1st line, received a PI-based regimen again at 2nd line; 32% of pts who received an immunomodulatory drug at 1st line received an immunomodulatory drug at 2nd line.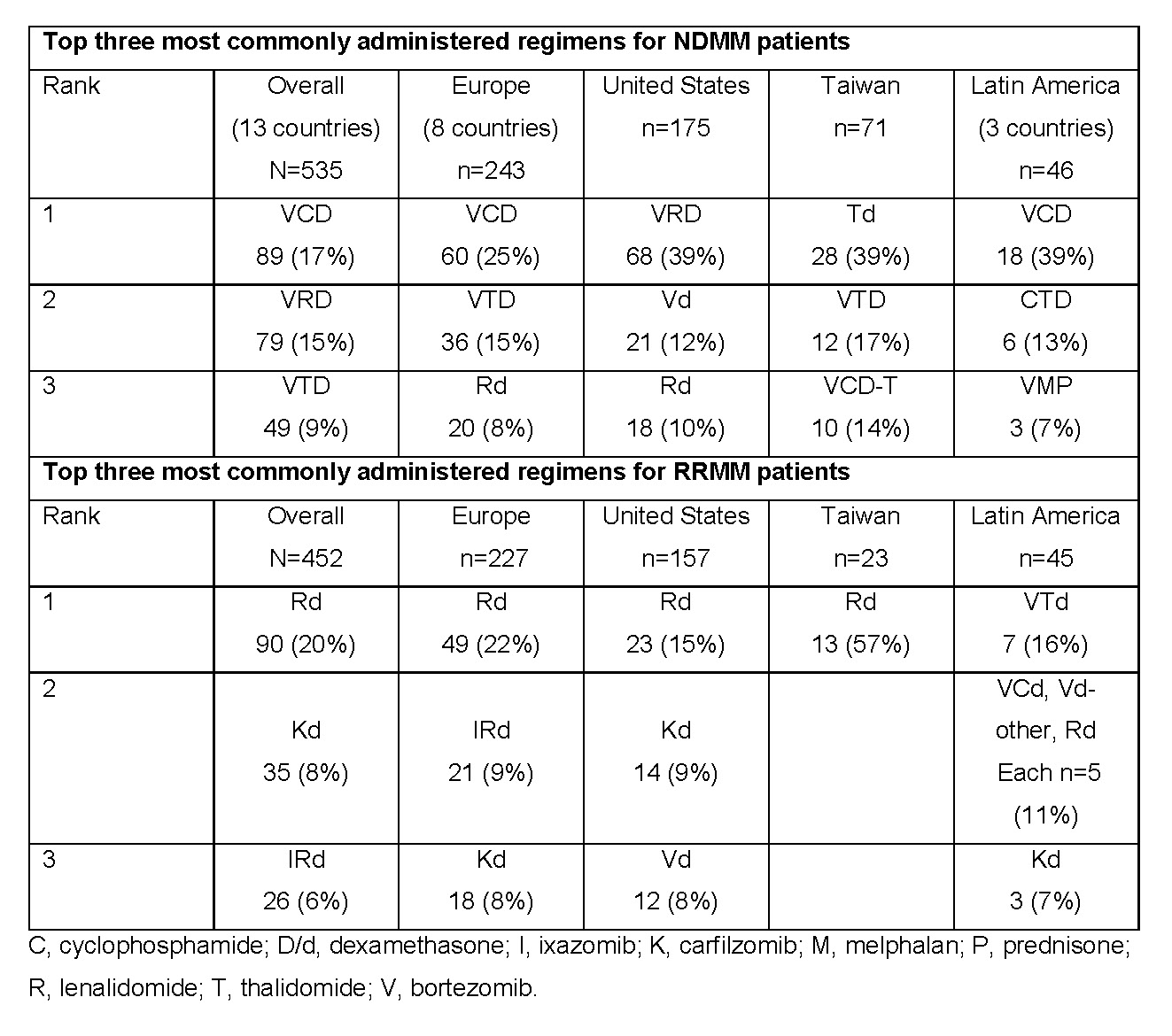 Conclusion
There is no global treatment standard in NDMM/RRMM; marked regional differences exist, potentially due to differences in drug/trial availability and treatment patterns at academic vs community centers. Our data confirm PIs and immunomodulatory drugs as backbones of MM therapy, with bortezomib- and lenalidomide-based treatment dominating the NDMM and RRMM settings, respectively. New-generation agents, plus drugs with new mechanisms of action, are used less frequently and mostly in later lines of therapy. 

Session topic: 14. Myeloma and other monoclonal gammopathies - Clinical
Keyword(s): Myeloma, Treatment