Abstract: PS1182
Type: Poster Presentation
Presentation during EHA23: On Saturday, June 16, 2018 from 17:30 - 19:00
Location: Poster area
Background
Approximately 30% of patients (pts) with advanced-stage classical Hodgkin Lymphoma (cHL) have refractory disease or relapse after frontline treatment with doxorubicin, bleomycin, vinblastine, and dacarbazine (ABVD). Brentuximab vedotin is a CD30 directed antibody-drug conjugate approved for cHL after failure of autologous stem cell transplantation (ASCT) or ≥2 prior chemotherapy regimens and as consolidation post ASCT for increased risk cHL.
Aims
To compare effects of frontline brentuximab vedotin plus doxorubicin, vinblastine, and dacarbazine (A+AVD) vs frontline ABVD in pts with advanced cHL.
Methods
In this phase 3, unblinded, open-label, multicenter study, 1334 pts with Stage III (36%) or IV (64%) cHL were randomized 1:1 to receive intravenous A+AVD or ABVD on Days 1 and 15 for up to six 28-day cycles. Pts with a PET scan Deauville score of 5 after Cycle 2 could switch to alternative therapy at the treating physician's discretion. Towards end of enrolment, newly randomized pts receiving A+AVD were recommended G-CSF primary prophylaxis due to high incidence of febrile neutropenia (FN) vs ABVD. Primary endpoint was modified progression-free survival (mPFS; defined as time to progression, death, or evidence of incomplete response followed by subsequent anticancer therapy) per independent review facility (IRF) assessment. Overall survival (OS) was key secondary endpoint.
Results
Primary endpoint, mPFS per IRF, was met (hazard ratio [HR] 0.77 [95% CI 0.60–0.98]; p=0.04), with 117 and 146 events in A+AVD and ABVD arms, respectively (Fig), and was consistent with mPFS per investigator (INV) (HR 0.72 [95% CI 0.57–0.91]; p=0.006). Causes of mPFS events per IRF were progression (90 vs 102), death (18 vs 22), or receipt of additional anticancer therapy for incomplete response (9 vs 22) after A+AVD or ABVD, respectively. The 2-year mPFS per IRF was 82.1% (95% CI 78.8–85.0) with A+AVD vs 77.2% (95% CI 73.7–80.4) with ABVD, and per INV was 81.0% [95% CI 77.6–83.9) with A+AVD vs 74.4% [95% CI 70.7–77.7] with ABVD. There were 28 and 39 deaths in A+AVD and ABVD arms, respectively (interim OS HR 0.73 [95% CI 0.45–1.18]; p=0.20). Safety profiles were consistent with known toxicities of the single agents. Neutropenia was reported in 58% and 45% and FN in 19% and 8% of A+AVD and ABVD pts, respectively. Discontinuations due to neutropenia or FN were ≤1% in both arms. Grade ≥3 infections were more common with A+AVD (18%) than ABVD (10%). In A+AVD pts, G-CSF primary prophylaxis (n=83) reduced FN from 21% to 11% and Grade ≥3 infections and infestations from 18% to 11%. Peripheral neuropathy (PN) occurred in 67% of A+AVD pts and 43% of ABVD pts (Grade ≥3: 11% A+AVD [1 pt with Grade 4] vs 2% ABVD); 67% of pts experiencing PN in the A+AVD arm had resolution or improvement of PN at last follow-up. Pulmonary toxicity was more frequent and severe with ABVD (Grade ≥3: 3% ABVD vs <1% A+AVD). Of on-study deaths, 7/9 in the A+AVD arm were associated with neutropenia; these deaths occurred in pts who had not received G-CSF primary prophylaxis. Of 13 on-study deaths in the ABVD arm, 11 were due to, or associated with, pulmonary toxicity.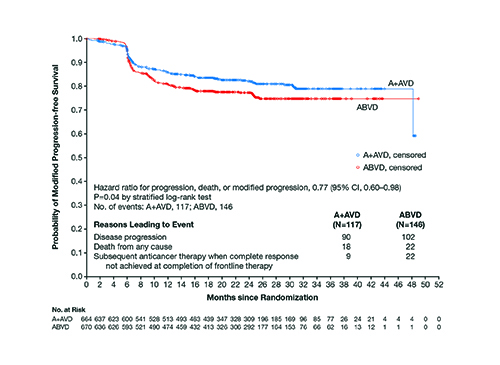 Conclusion
Compared with ABVD, frontline A+AVD improved outcomes for pts with advanced cHL, including a 23% risk reduction in progression, death, or need for additional anticancer therapy. This supports the possible use of A+AVD as a new frontline option for pts with advanced-stage cHL.
Session topic: 17. Hodgkin lymphoma – Clinical