Abstract: PS1143
Type: Poster Presentation
Presentation during EHA23: On Saturday, June 16, 2018 from 17:30 - 19:00
Location: Poster area
Background
Lesch-Nyhan syndrome (LNS) is a very rare (incidence 1-9 patients/1 million people), inherited disease of purine metabolism. Deficient activity of enzyme hypoxanthine-guanine phosphoribosyltransferase (HPRT) causes dysfunction of nervous system and kidneys. LNS is the most severe form of HPRT deficiency, with deeply decreased or complete lack of HPRT activity. Children with LNS usually present no symptoms at birth but 3-6 months later a delay in psychomotor development is revealed. Patients develop hyperuricemia, impaired kidney function, articular and nervous system symptoms, including cognitive impairment and behavioral problems such as self-mutilation. Megaloblastic anemia may also occur, which is not a constant feature of LNS but develops only in some patients. Anemia is cobalamin (vitamin B12) and folic acid (FA) resistant, however, it is believed that increased consumption of these vitamins occurs in LNS patients.
Aims
We present a case of a young man with LNS who developed severe megaloblastic anemia which has been successfully treated with adenine.
Methods
A 25-year-old man with LNS developed megaloblastic anemia (Hb 96 g/L, MCV 121 fL) refractory to 3 months' treatment with vitamin B12 and FA. Other lab values showed: WBC 6.3 × 109/L (ref.: 3.5–8.8), PLT 139 × 109/L (ref.: 145–348), cobalamin 560 pmol/L (ref.: 150–650), folic acid >1200 nmol/L (ref.: 330–870), S-methylmalonate 0,26 μmol/L (ref.: <0,4), P-homocysteine 6,1 μmol/L (ref.: 5–15). Bone marrow (BM) examination revealed a slightly reduced BM cellularity (hypocellular) with 1% of blasts, 5% of promyelocytes/promonocytes, and distinct maturation abnormalities in all hematopoietic cell lines, with pictures of multilineage dysplasia resembling a myelodysplastic syndrome (Figure 1 - BM smear: myeloid cell with ring-shaped nucleus, erythroid precursors with multiple or irregular nuclei, stippling).
Results
Thanks to pharmaceutical company Apoteket AB, capsules with adenine (formerly called as a vitamin B4) 300 mg per capsule were prepared for the patient and administered t.i.d. (900 mg/day). Oral adenine treatment rapidly cured the patient's megaloblastic anemia within one month (Hb concentration increased to 132 g/L and MCV decreased to 95 fL). Moreover, BM examination performed 6 months after onset of adenine therapy showed significantly improved cytomorphology of hematopoietic cells, primarily concerning erythropoiesis. Other hematopoietic cell lines still showed dysplastic features but to a significantly lesser extent. Megaloblastic anemia has been permanently cured in the patient thanks to long-term oral adenine administration. No adverse reactions have been observed. The effect of adenine treatment remains stable for 7 years now.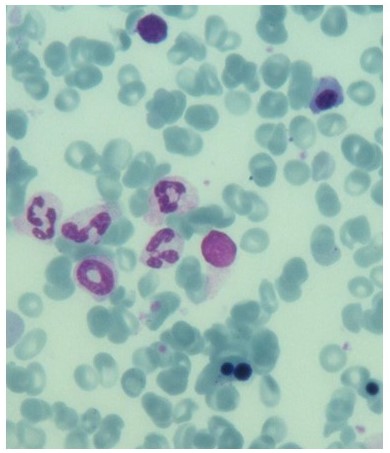 Conclusion
Long-term oral administration of adenine, previously known as vitamin B4, has a potential to cure megaloblastic anemia in patients with LNS. Moreover, adenine significantly improves multilineage dysplasia in BM underlying the diagnosis of megaloblastic anemia. Protracted therapy with adenine is well tolerated, with no adverse events in the described patient under 7 years of treatment.
Session topic: 29. Enzymopathies, membranopathies and other anemias